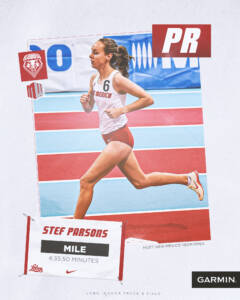 Women's distance turns heads, men's 4×4 record falls at UNM Team … – University of New Mexico Lobos athletics official website news
ALBUQUERQUE, N.M. – A plethora of PRs by the New Mexico women and a school record by the 4×400-meter men's relay squad highlighted the 2023 New Mexico Team Open over the weekend at the Albuquerque Convention Center.
The women's invitational mile stole the show on Friday night, with two Lobos posting PRs and etching their names near the top of the NCAA performance list. By the end of the competition on Saturday, Stefanie Parsons (6), Elise Thorner (11), and Samree Dishon (13) were all in the top-15 on the NCAA performance list in the mile. "It was a great race at the end of the night Friday, and they ran hard and exceptionally well," said UNM head coach Joe Franklin.
Parsons crossed the line in 4:35.30 minutes (converted from 4:41.64), topping her previous best of 4:36.19 minutes which she ran two weeks ago in Seattle. Dishon finished in fourth place with a personal-best mile time of 4:37.68 minutes (4:43.86). That was nearly four full seconds faster than her previous best of 4:47.35, which she ran at the UW Preview on Jan. 14.
Thorner took third with a time of 4:37.27 minutes (4:43.44), as she just missed her PR of 4:36.98 minutes (4:43.15) which she ran at last year's Don Kirby Open & Elite. Klara Dess made her Lobo debut, finishing in fifth place with a time of 5:03.10 minutes (5:09.85). Gracelyn Larkin and Sarah Eckel peeled off the track midway through the race by design, after setting the pace for the event.
University of Washington's Anna Gibson won the race at 4:31.00 minutes (4:37.03), which was the second-best mile time in the NCAA to date during the 2022-23 indoor season.
The mile success Friday carried over to Saturday's invitational 800-meters, where one of the Lobos' youngest stars put forth one of her best performances yet. True freshman Rebecca Grieve came out hard and never looked back on her way to a personal-best time of 2:07.20 minutes (2:07.91), collapsing in exhaustion upon crossing the finish line. "I have usually gone out too slowly for my 800s when I've done it, so today I really wanted to go out hard and test it," Grieve said. "It definitely did wipe me out, but I'm glad it did. It is an event I really enjoy, and it is good to try different events and keep it interesting."
"Anytime you have someone come out who hasn't run 800 before (collegiately) run a 2:07, it is quite remarkable," Franklin said on Grieve's performance Saturday. "She is a 400/800 person so we don't really know her event yet, but Rebecca is running really well. That now puts us in better contention in the distance medley relay."
Only Lobo veteran Abigail Goldstein – who was competing unattached – was able to edge the freshman, as Goldstein ran a personal-best 2:06.94 minutes (2:07.65). "It's not really an event I've done that often – I maybe do it maximum once per season," said Grieve, a native of Edinburgh, Scotland. "I have been thinking recently that it is an event I could actually do quite well in, so today I just wanted to give it a shot and see what I was capable of. It was nice racing against really fast runners to push myself."
The Mountain West Freshman of the Week in December, Grieve continued the strong start to her career as she has already set the school records in the 300-meters, 600-meters, and as a member of the 4×400-meter relay squad. "It has shown me that all of the training we have been doing here is working out for me," Grieve said regarding the success early on in her career. "This is probably the best start to a season that I have ever had, and I'm really thankful to have this opportunity."
Right behind Grieve was Parsons, who also posted a PR in the event with a time of 2:07.44 minutes (2:08.15}. Dess finished fourth at 2:08.90 minutes (2:09.62), Thorner was fifth in 2:09.61 minutes (2:10.33), and Sarah Eckel finished seventh in 2:11.62 minutes (2:12.36). At the end of the meet on Saturday, both Grieve (26) and Parsons (28) were in the top-30 in the NCAA in the 800-meters.
Following the swift 800-meters, the relay squad of Rivaldo Leacock, Jevon O'Bryant, Brodie Young, and Jovahn Williamson took down the school record with a time of 3:08.81 minutes (3:08.37). "The splits were pretty decent, and I think this helps us get used to what we are going to deal with next week with so much competition coming in," O'Bryant said referencing the upcoming New Mexico Collegiate Classic next weekend. "We have run faster than this before, but to get the school record indoors is a big deal. We have to be thankful for that, but we know we can improve."
Despite an admittedly bumpy performance, the Lobo foursome was able to tackle the standing indoor mark of 3:10.79 minutes which was set by Cheyne Dorsey, Isaac Gonzales, Carlos Salcido, and Mark Haywood on Feb. 25, 2017. At the end of the meet on Saturday, the time ranked 25th among the NCAA performance list. "There were some errors we found, from exchanges to getting caught up with other teams and tripping. We feel like we didn't run such a clean race," said O'Bryant, who ran a leg of last year's Mountain West Outdoor champion 4×400-meter relay squad along with Williamson and Leacock. "At the end of the day it's the championships that we want to make. Indoor nationals is top-12, and that is the goal for us."
"Breaking a school record at a university that has been around as long as we have is quite an accomplishment," Franklin said on the men's 4×400-meter squad, which finished in third place. "Hopefully they will continue to lower that time significantly over the next three weeks."
Coming a fraction away from two school records was freshman Mckenna Watson, who continued her positive momentum in both the 60-meters and 200-meters. On Friday she ran a personal-best time of 24.02 seconds (23.95). That was good enough for fourth place among a field of 20 runners, as she tested Tianna Holmes's record time of 23.96 seconds achieved last year. Watson then checked in with a time of 7.57 seconds (7.55) in both the preliminary round and finals of the 60-meters on Saturday. That was just 0.02 seconds off Kayla Fisher-Taylor's school record of 7.55 which she ran on Feb. 28, 2014. "Mckenna ran great," Franklin said. "She just missed the school record in the 60 and she ran a great final. She ran exceptionally well in the 200 the night before, and she continues to get a little better each weekend."
Continuing the theme of an upward trajectory at the start of the season was sophomore Lauren Bettencourt, who blew away her PR in the mile on her way to a victory in the event. Bettencourt topped a field of 20 competitors with a time of 4:52.83 minutes (4:59.35), which was a nearly nine-second improvement from last week's 5:01.29. "Lauren has worked very hard," Franklin said. "She struggled her freshman year, but she has a lot of ability and this shows what consistency and training every day does. That's what she has done over the last four months."
Senior Samantha Valentine was close behind Bettencourt, checking in with a time of 4:57.76 minutes (5:04.39) to take third place. Valentine also competed in the 800-meters on Saturday, finishing fifth among a field of 34 runners with a time of 2:16.28 minutes (2:17.04).
The men's mile featured noteworthy performances by the Lobos as well, with Matthew Larkin shattering his PR in a time of 4:03.45 (4:08.87). Larkin, who was competing unattached, finished in second place, and was followed by Jonathan Carmin who cruised to a strong time of 4:05.72 (4:11.19). Abdirizak Ibrahim finished in sixth place, with a time of 4:09.38 (4:14.93).
Ayoub El Ashmawi and Young had the Lobos' first two PRs of the meet on Friday, with the former running a time of 21.82 seconds (21.75) to place sixth in the 200-meters. Young followed at 22.00 seconds flat (21.93) to place 11th.
Jake Burkey picked up where he left off last week when he established a long jump personal best of 7.52 meters (24' 8.25"). Although he narrowly scratched on his bid for another PR, he settled for a mark of 7.45 meters (24' 5.5") to place fourth among a field of 21 competitors on Friday.
O'Bryant led the Lobo men in the 200-meters, running a time of 21.49 seconds (21.42) to place ninth among a field of 22 runners. Leacock finished 12th at 21.56 seconds (21.49), and Williamson was close behind at 21.57 seconds (21.50). Gal Arad also ran the 200-meters, finishing in 21.79 seconds (21.72), and the 60-meters with a time of 6.95 seconds (6.93).
Logan Neely had a PR in the 200-meters at 25.29 seconds (25.22), and Annamaria Leszczynska followed in 25.57 seconds (25.50).
Aleksandra Wolczak hit a PR in her first collegiate 60-meters, running a time of 7.95 (7.93) to best her previous mark of 8.10 seconds. She missed out on a PR in the 200-meters by just 0.10 seconds, cruising to a time of 25.30 seconds (25.23) to place 11th in the unseeded portion of the race. Her PR in the event stands at 25.13 which she achieved during her career in Poland.
Analisa Ibarra ran a time of 26.10 seconds (26.03) in her first meet as a Lobo, while Maria Cisneros Llamazares followed in 26.20 (26.13) in the 200-meters. Alexandra Adams and Leigh James also participated in the 200, with times of 27.43 seconds (27.36) and 27.67 seconds (27.60), respectively.
Reigning Mountain West Field Athlete of the Week Elizabeth White placed second in the long jump, attaining a mark of 6.08 meters (19' 11.25") on Day 1 Friday evening. Among a field of 41 competitors, White was bested only by Elite Sports' Jessica Barreira who jumped 6.29 meters (20' 7.75"). White followed with a PR in the 60-meters on Saturday, crossing the line with a time of 7.73 seconds (7.71) to finish 16th among 56 racers.
Kora Pettengill displayed improvement in her second 60-meter hurdle race of the season, topping her time of 10.06 (10.02) at Air Force in December with a time of 9.96 (9.94) on Saturday.
Adams had a PR in the 60-meters with a time of 8.34 seconds (8.32), which bettered her time of 8.45 seconds which she ran last week. Abbie Schwieder and Gregory crossed the line in 8.61 seconds (8.59), and Ludwig followed in 8.62 (8.60).
Mikyla Harkley participated in the long jump, posting a mark of 5.58 meters (18' 3.75"), and the triple jump where she finished seventh among a field of 18 with a leap of 12.09 meters (39' 8"). Freshman Lilee Kaasch also participated in the long jump, recording a distance of 5.14 meters (16' 10.25") on Friday.
Gannon Christman ran the 60-meter hurdles for the first time this season, checking in with a time of 8.59 seconds (8.57) on Saturday.
After reaching her PR in the pole vault last week at 3.55 meters (11' 7.75"), Lobo newcomer Alyssa Gregory was just off that mark with a height of 3.52 (11' 6.5") cleared on Friday. Gregory recorded a PR in the 60-meters at 8.61 seconds (8.59), cutting off 0.02 seconds from last week's time. Ludwig achieved a lifetime best in the pole vault at 3.22 meters (10' 6.75"), and Schwieder matched that height.
Victoria Plummer and Alyssa Magallanez each cleared a height of 1.61 meters (5' 3.5") in the high jump, while Pettengill posted a mark of 1.46 meters (4' 9.5"). Camille Jackson raced in the 3,000-meters, with a time of 12:15.52 minutes.
NEXT WEEK: The Lobos are home again, hosting the New Mexico Collegiate Classic on Feb. 3-4 at the Albuquerque Convention Center. A group of runners is also scheduled to attend the Bruce Lehane Scarlet & White Invitational hosted by Boston University. Live coverage details for both meets next weekend will be available online here.