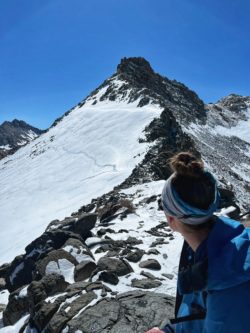 Uphill Battles: Mental and Emotional Challenges of a PCT Thru … – The Trek
The Trail is hard. Spanning 2653 miles with a vertical gain just under 500,000 feet, it'll test your body and your will to wake up and hike each day. Physically it will challenge your limits, but the ultimate hurdle to overcome is yourself, your mind. Your body will adapt and become strong in the backcountry if you have the tenacity to let it, but when you're sitting in your tent or sleeping bag at night with another hundred miles ahead of you before the next town, completely exhausted and missing your loved ones, do you hit the SOS button or dig deep and stay? What if you haven't seen another hiker in a week, and it's only been you hiking with yourself and the Joshua trees of SoCal, what do you do? I want to give some detail on types of challenges we faced on our PCT thru-hike in 2022, and the mental barriers we had to overcome to cope with those issues.
To preface, my wife Marie (aka Basecamp) and I are both hikers and ultra-runners; very competitive. We've had to live in the "pain cave" often when on training or competitive runs, it's just what happens when you've been running all day for 30+ miles. Your body starts to hurt, your emotional walls crumble down, and you either deal with it or you don't. If you don't, you usually fail. Ultra runs are extremely similar to thru-hiking, one is just quick and done after a day or two while the other drags on for months. Both are endurance activities in their own respects. You endure things physically and mentally. From my point of view, there are four big mental challenges you will face at some point on a long-distance trail, not specifically the PCT, but any long trail. These mental hurdles deal with the physical, the environmental, the social, and the intrapersonal.
~Physical~
So, you've started a long trail. That's amazing! After the first few days, aches and pains kick in. You may feel practically immobile when you wake up one morning unless you're already a season, thru-hiking veteran or ultra-athlete. It's rough. But your body begins to realize it's performing an intense, demanding activity and may be in it for a while. Blisters will probably come. They will ooze and hurt, but they will cease after a while. Calluses will replace them. Even though you may have no clue what's happening in your body during those first few weeks of hiking, your body knows, and it will rise to meet the demands you place on it. Your legs will be sore, but after a while they tone. Your body will become a calorie-consuming, thru-hiking powerhouse. Your muscles will bulk and start to feel strong. Physically, you will be strong.
However, I won't misinform you and say the aches and pains go away because they never do. Your feet will still feel like pins and needles when you first wake up in the morning and get out of the tent. Your shoulders or back or even your hips may just have a dull throb that's always there, lingering. To be honest, it may not go away until you're done hiking. Your shoulders and back may develop painful knots in the muscle from your pack. And your feet, well, they will be the worst kind of sore and bruised once it's all said and done. Sure, if you experience any emergent pains, you should consider medical attention, but I'm talking about that nagging, annoying pain in your body. Mentally, you'll need to come to grips with the fact that you will hurt, daily. If you can't come to peace with that reality, you won't finish your hike. If you become friends with your daily aches and accept them as a part of the experience, then you're in business. After you get a feel for the rhythm of your first thru-hike, you begin to know what to expect. You begin to realize what will hurt at the end of a 20-mile day versus a 35. You begin to know your body and grow into it even more than you thought you could. Your mind syncs with your limbs more than you believed possible. It still registers the pain, oh yes, but if you check that feeling of pain and register it under the "daily allowance of pain for the mileage gain" tab, it just becomes a part of the process.
It took the two of us weeks to become acquainted with our own physical pain in the desert: sunburn, blisters, scrapes, screaming shoulders, throbbing knees, and sore backs. When we entered the Sierras, we had to cope with knew pains: severe cold, aching toes and fingers from chill, wind burnt and sunburnt faces, and aches in muscles we'd forgotten until the snow began to give way under out feet. By the time we made it to NorCal, OR, and WA we were toughened by the first two sections, both physically and mentally. And when pain continued daily after that, it sucked, but it was the "norm" and our minds knew it, so they processed it differently than before.
~Environmental~
On trail you walk through nature, of course, which many call the environment. But, when I say the "environment" I mean everything surrounding you both inanimate and living; natural, manmade, walking, talking, etc. Inanimate things are rocks, your clothes, rain, water, buildings, cars, boulders, precipitous ledges, wind, and the list goes on. Living things you should expect out there include flora and fauna that call the trail and surroundings home, but also the people you'll meet. All these things, living and non-living, contribute to your experience. Many of our memories from the PCT were filled with laughs, beautiful views, and curious creatures. Though, for us that wasn't always the case, and it won't be for you.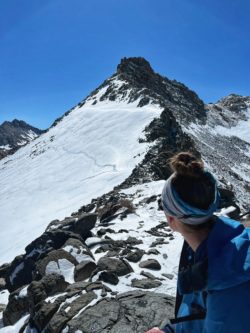 On the PCT there will be long stretches of desert sand and heat that seem to drag on forever with little or no shade in sight. You will have big water carries through many stretches of trail and you'll have to trust that reports on FarOut are still accurate for upcoming water sources or that trail angels have stocked a designated water cache. Depending on the season you hit the Sierras, you may be in a frozen, winter wonderland with a week or more of straight hiking. When you finally reach a town exit point you'll have to climb over an additional pass (twice) just to get there and back. The snow may be consolidated (meaning you can walk on top of it) or you may punch straight through it (post-holing) a few inches to several feet if the ambient temperature is warm enough. This can be dangerous, especially if you're hiking alone because you can't always be sure how deep the snow is, or what's underneath it. There will be ridges with sheer drops. Many have trees or rocks below to slow a tumble, but some don't. Some of these ledges may be covered in snow or ice, so you'll have to rely on the boot pack and/or traction devices to get you across. There will be plenty of water crossings in the Sierras to keep your shoes wet, but these can be dangerous when the water levels rise from rainfall or snowmelt. Altitude sickness from the high mountains of California can significantly impair you until you're acclimated, and even then you may have issues. You'll see rattlesnakes along the trail. You'll probably see a bear (or several), and maybe even a mountain lion. Wildlife is beautiful, but these particular critters can also kill you if you're not careful, so be smart in the backcountry. In town you'll need to be mindful of traffic, aggressive dogs, sickness (more people means more risk of catching something), and even of the common thief or creeper. You'll stick out in town, there's no way around it, even if you have on your "town" clothes. You will be the sun-kissed, chiseled, Greek god-like person walking the street with a thousand dollars of equipment on your back. You won't be inconspicuous. Some folks know how much hiking equipment is worth, and they won't mind relieving you of all of it. And lastly, you may encounter the town "creeper" who gives you bad vibes. Stay away from them and stay in a group if you do.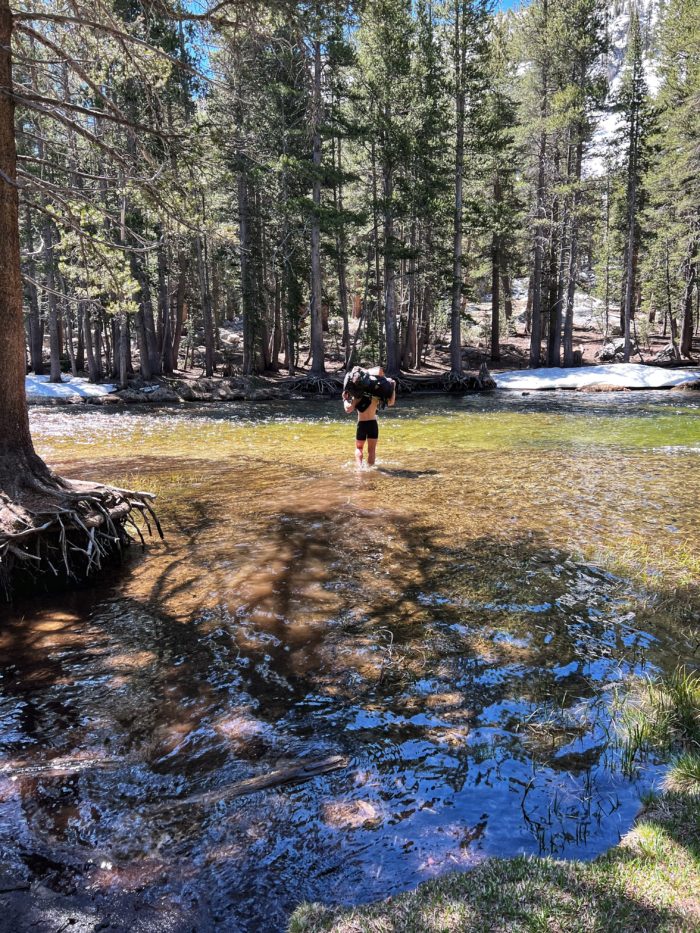 I list all these things not to intimidate you from hiking the PCT or any other long trail. In fact, I completely endorse your decision to hike one, or many! But, there will be real dangers throughout your hike that you need to be mindful of; it's not a cake-walk. Whether you notice it at first, or not, these dangers will take a mental and emotional toll on you. The best way to lessen the impact of that is to be aware of the risks and dangers involved before you ever leave your house. Research any and everything you can about the trail you're hiking, and the environments you'll be in. Check out strategies, cautions, and things to look for to avoid unnecessary risks and how to best manage the risks you can't avoid. Learn about risk assessment and risk tolerance. Travel on trail and in town with others you trust and feel safe with. Meditate. Contemplate. Take a rest day. Sit and talk things out with other people. Words are powerful, and sometimes just verbalizing a concern strips away the fear of it. If you go through something traumatic out there, talk about it, even bitch about it if that's what you need to release the anxiety. Be smart and never take unnecessary risks. Take the proper equipment with you, regardless of how much it weighs, and always have an S.O.S. device with you as a final option should the worst happen. If you surround yourself with a healthy environment, know what to do if the "shit hits the fan", and manage danger you put yourself in, then you'll avoid having a mental breakdown in the middle of the wilderness and be in a great space to conquer your trail. I'd say that preparing for a long hike is 25% physical aptitude and gear, while 75% is in your head: mental preparation, emotional awareness, and knowledge. Be mindful that there's a healthy dose of fearmongering in chats and threads online, so read and take notes with the knowledge that some things will be played up and blown out of proportion.
For Basecamp, the most difficult environmental challenge she faced was "the thaw" of the Sierras. We entered the high mountains on May 1st, but the overnight temperatures rarely reached freezing. The result was that we had to wake in the early black of morning just to have stiff snow to walk on. By 8:00 or 9:00AM, we were post-holing. There were times when she'd sink to her waist, her stomach, a few times to her chest at Bishop Pass, and almost falling into a small snow cavern before Muir Pass when the ice gave way beneath her. Descending Bishop Pass towards the town of Bishop, she nearly had a panic attack from the post-holing. Had I not been there and able to pull her out of some of the larger holes, she could have been in serious danger. After Bishop Pass, we had to take several zero days in town just to reset and mentally prepare for going back out. There was no shame in admitting we needed mental rest after being in survival mode for hundreds of miles. We'd entered the Sierras early hoping to hit the "secret season" and walk on consolidated snow, but the weather forced us to readjust our expectations. Mentally, that took a while to process.
As another result of hiking the Sierras through the thaw, water crossings varied from trickles, to raging torrents. I'm 5'11", 180 lbs. so while the water was frigid, I didn't have any major concern about crossings. With Basecamp, however, she could have easily been swept away given the right conditions since she's 5'4" and just around 100 lbs. soaking wet. Each time we approached a large river crossing or saw one coming up on our phone app, she'd become anxious and need to mentally prepare herself for it. There were times I helped her across, carried a pack, or even held her hand, but even with that added level of security, each crossing still took a small toll on her. There were times she needed to stop and rest her mind and body, or even cry it out, and that was okay. It was something she had to wrestle with and overcome in order to make it through to Kennedy Meadows North and the end of the Sierra section. We both knew the thaw would cause issues, and we mentally prepared as best we could but experiencing it firsthand was still difficult.
To be continued…