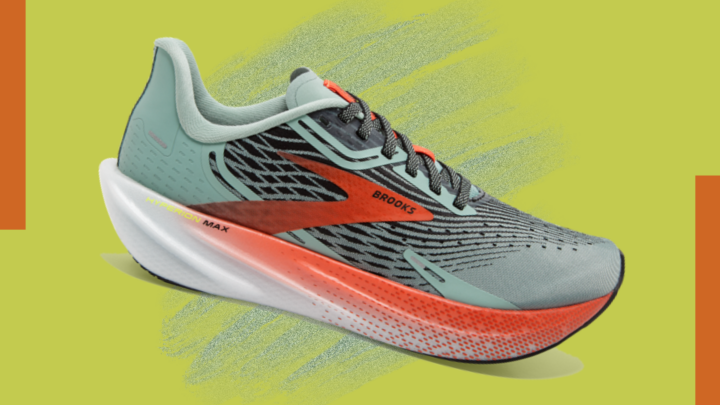 First Run: Brooks Hyperion Max – Women's Running
The newest model in the light-and-fast Hyperion family, the Brooks Hyperion Max is designed as an everyday trainer for race-focused runners that want to run faster and recover stronger between sessions. It's the first new model in the Hyperion line since the brand launched the Tempo and Elite three years ago.
Side by side with the Hyperion Tempo, the Hyperion Max's more pronounced rocker –curving up at both toe and heel in what the brand calls "Rapid Roll technology"–and its extra cushioning are immediately evident. In fact, the Max looks more like its carbon-plated raceday peer (the Hyperion Elite) than an everyday trainer.
The rocker shape has become a feature in many neutral daily trainers, offering a subtle-yet-effective way to help move you faster from landing to toe off. With some, it's subtle. In this model, even without a plate of any kind, it's particularly pronounced, and is the feature that stood out the most during initial testing.
As a typical mid-foot striker, I found the rocker design comfortable albeit not overwhelmingly helpful on my first run. However, after the third run, I found the roller experience smoother and faster even with my usual mid-foot stride. Out of curiosity, I mixed up my stride to emphasize a more heel-striking motion, and I felt the rocker motion guided my foot more seamlessly through toe off; I think heel strikers will find the design and ample heel cushioning noticeable in the best of ways.
Brooks Hyperion Max
Brooks Hyperion Max $170
Weight: 7.5 oz, 213 g (men's size 9), 6.7 oz, 190 g  (women's size 8)
Stack Height: 34mm / 26mm
Heel-Toe Offset: 8 mm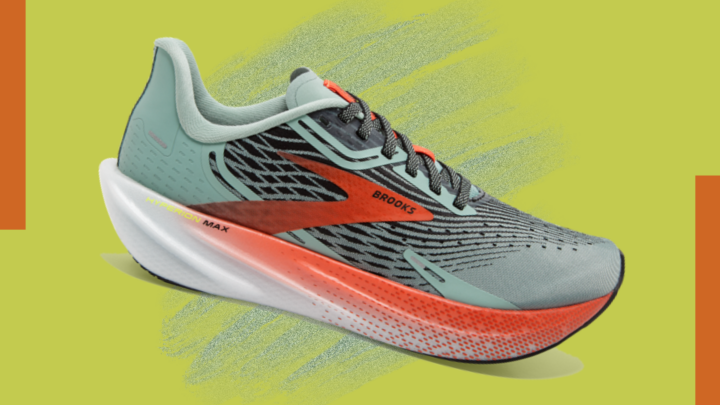 Fit and Feel
Right out of the box, the Hyperion Max's stretch woven upper with 3D Fit Print were impossible to ignore; it fit snugly around my arches and gave an enjoyable "locked down" feeling throughout the midfoot that made me feel particularly secure as I started to pick up the pace. If you don't love it at first, give it a few miles. After my third run I felt the shoe relaxed a bit and provided a smoother, more enjoyable ride. What didn't ease up is the fit. It remains snug, especially in the midfoot, making the shoe best suited for those with narrow to normal-width feet.
The Hyperion Max delivered a comfortable, speedy ride on easy runs–in fact, I found myself naturally running a few seconds faster than I thought I was, without any extra effort. It shined brightest, however, during speed work, where I welcomed its snug fit and stiffer rebound. At the end of the day, I don't know that it has the spring in the toe off that I'd want from a racing shoe, but it has the versatility to span a range of paces with ease.
When it comes to midsole cushioning, Brook's nitrogen-infused DNA Flash, which was first introduced in the Hyperion Tempo. While I appreciated some of its qualities, it's not my favorite midsole cushioning out there. I don't find it particularly responsive or bouncy as the brand claims, but combined with the rocker design it provides perfectly adequate lightweight cushioning and a stable, quick-rolling ride.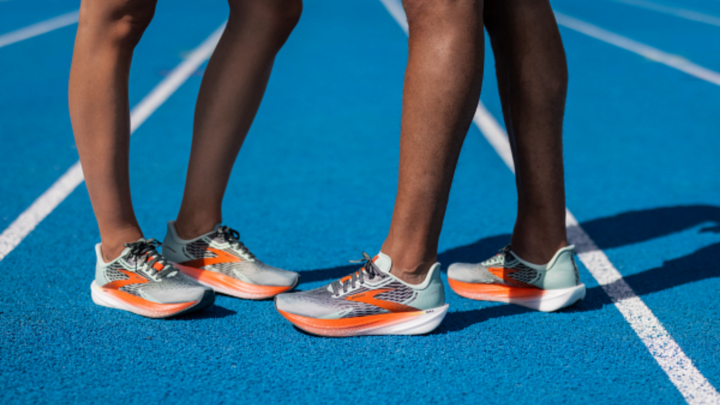 The grip from the outsole was excellent straight out of the box. Made from a "Green Rubber" (designed to be more eco-friendly, according to Brooks), it doesn't sacrifice traction. I ran on a mix of surfaces from treadmill to slightly damp sidewalks and was impressed at the tackiness through the first three runs.
It's important to note that the Hyperion Max is not actually "max" like you might be expecting. It's not super plush like other max cushioning shoes. In fact, it has a relatively low stack height—only two millimeters higher than the Tempo—and the foam isn't pillowy-soft. While that firm and stable feel gives it an edge over max-cushioning models during up-tempo runs, I wouldn't be surprised if the confusing name becomes an issue for consumers who are expecting a much softer, higher-stacked shoe. (I certainly was one of them during my first run, when I felt underwhelmed by its lack of expected max cushioning.)
Final Thoughts
Having run in the Brooks Hyperion Tempo, which felt a bit stiff and flat for my liking, I found this new model a great upgrade. A simple fast roller, it seems to offer a nice hybrid between everyday trainer and race shoe–without the price tag or prescriptive roll of a carbon plate–best suited for mid- to long-distance tempo efforts.