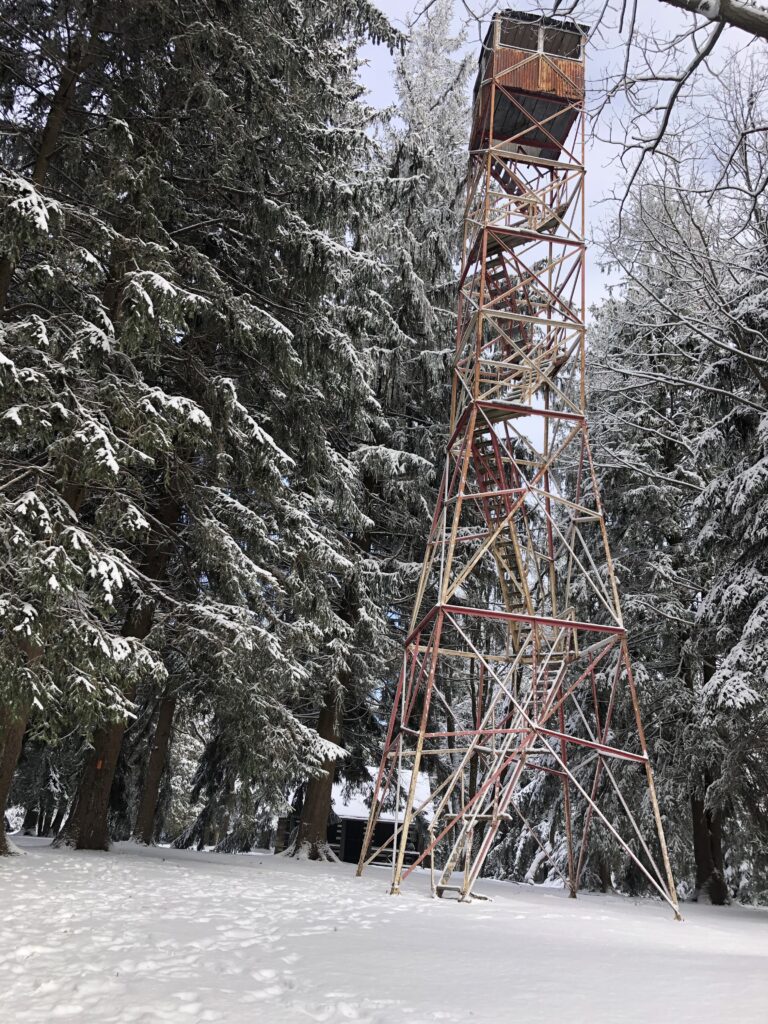 The Little Flat Fire Tower: A must-see, any time of year – Statecollege.com
Rothrock State Forest is often said to be right in the Centre Region's backyard. Indeed, it feels that way, with many trailheads and hiking trails less than 15 miles from the heart of State College. It is one of the reasons I love living here. 
Those who know me well won't be surprised to see me featuring a hike to the Little Flat Fire Tower, one of Rothrock's most iconic features. Peggy (my dog) and I hike up there at least once a week. The tower sits at 2,420 feet of elevation (not bad for central PA) on the top of the ridge near Tussey Mountain. With a little cabin next to it, the tower often has me dreaming about being alone for months watching over the woods, keeping an eye out for forest fires. 
The tower is no longer used for such things, and cell phone towers not far away take away some of the romance of the place. The first few flights of tower steps have been removed to keep out vandals who have left their mark with graffiti, so you can't climb the tower. Still, it is a picturesque place to visit.
How to get to the tower is a matter of preference and ability. There is the easy way (driving up the ridge on a dirt road and parking about a half-mile away), the hard way (hiking up one of the steepest trails in the area, the Spruce Gap Trail), and many other ways in between. Before you head out, find a good map and learn how to read it. You will see numerous trails that can be used to make loops of different distances.
And you don't have to hike to reach the tower. Rothrock is a haven for mountain bikers, trail runners, and gravel bikers, all with different paths that can lead them to the Little Flat Tower if they so choose. It is always amazing to see them navigate the roots, rocks, and elevation of our trails. In winter, snowmobilers blaze paths on the forest roads, working their way up to the top of the ridge. 
The tower itself is at an intersection of the Mid-State Trail—the 327-mile trail that cuts across Pennsylvania from New York to Maryland—and a service road that shoots off from Laurel Run Road. (Of note, the Mid-State Trail is a foot trail, so no bikes are allowed on it. Also note that Laurel Run Road is not plowed in the winter and is not suitable for most vehicles when snow and ice are on the road.)
Because I am a glutton for punishment, I make the climb up Spruce Gap Trail to reach the tower. This trail is not for beginners, as it is very steep.
To get there, start at the Galbraith Gap parking lot on Bear Meadows Road, just past Tussey Mountain. I often think of this place as the gateway to Rothrock, and in the lot you will find teams of people who are looking for adventure. 
From the lot, follow the Galbraith Gap Trail for about a half-mile, up past the Longberger Trail, until you hit the intersection of Spruce Gap Trail and Three Bridges Trail. 
Spruce Gap leads you on a beeline straight up the mountain. There are loose rocks and roots to navigate, and plenty of boulders to climb over (and rest on). During the steepest part of the climb, a clearing allows hikers to see the top of the ridge off to the right. It is beautiful, but it is also intimidating, because there is still a long way to go.
Eventually the climb mellows out a little (and I mean a little), and the forest becomes especially beautiful, with large pine trees that are very pretty in the winter after a snowfall. In late winter and early spring, this part of the trail can be extremely icy, and traction devices are a must.
Hikers reach the top after climbing over some small boulders. In all, the trek up includes roughly 1,100 feet of elevation gain (the equivalent of 110 flights of stairs) over 1.1 miles of trail. It is a good workout that is sure to leave your legs burning and keep your heart pumping. 
To get to the Little Flat Fire Tower from there, continue on the Spruce Gap Trail until it reaches an intersection with the Mid-State Trail. Hang a right there. In about a tenth of mile you will be out in a clearing that is home to the tower. It is a perfect spot for a lunch break (remember to pack out all your trash, please). Peggy loves to run around the open area. 
Hikers can either backtrack down the way they came (beware, the steep downhill and loose rock is very difficult to navigate), take the road back down (long but gentle slope), or find another nearby trail to make a loop. 
I typically run down the service road for about half a mile until I come to Old Laurel Run Trail. The grade downhill on this trail is much gentler than on Spruce Gap, but it is still rocky. Many people also come up this way to visit the tower. Old Laurel Run eventually connects with Three Bridges Trail, which (as you might have guessed) has three bridges over water running off the mountain. A spring near the bridges offers a nice cooldown on hot days. 
From there, follow the Galbraith Gap Trail back down the way you came to the parking lot for a 3.5-mile hike that is sure to be something to write home about.
In the parking lot, drink some water and stretch it out and look at all the bikers, hikers, and runners who use this wonderful natural resource right in our backyard. Don't forget to take a look up at the top of the ridge and marvel at how you climbed all the way up there. You'll probably feel it in your legs for a couple of days after. Happy trails. T&G
Vince Corso loves exploring the outdoors in central Pennsylvania and beyond.