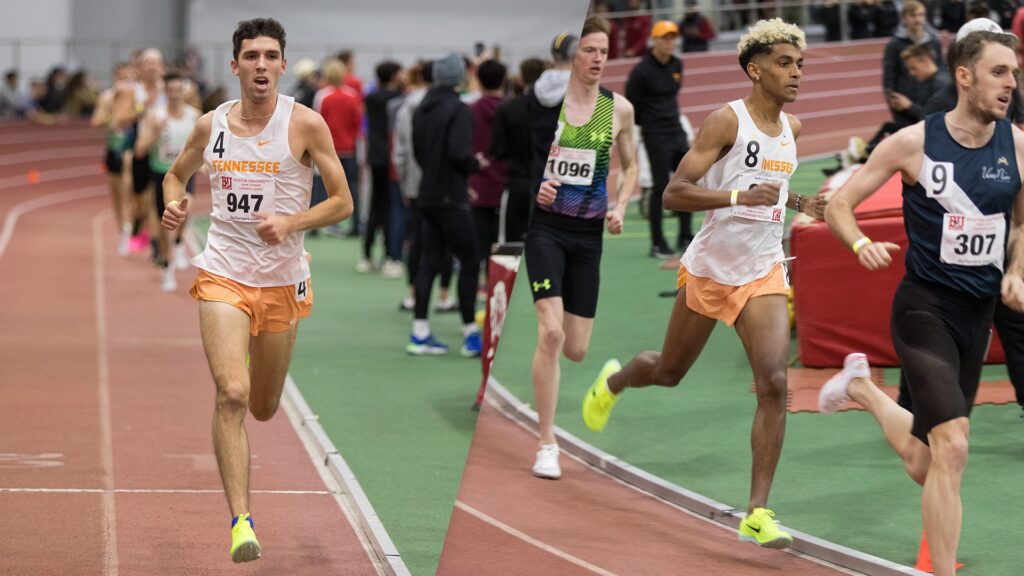 Jacobs, Abdalla Post Record-Shattering Performances Friday At … – University of Tennessee Athletics
BOSTON — An elite pair of Tennessee distance runners made history Friday evening at the John Thomas Terrier Classic hosted by Boston University, with graduate student Dylan Jacobs setting an American collegiate record in the indoor 5,000-meter and redshirt sophomore Yaseen Abdalla clocking an NCAA all-time top-10 3,000-meter inside the BU Track & Tennis Center.
 
Jacobs turned in a personal-best time of 13:11.01 in his Tennessee track debut, moving to No. 3 on the all-time collegiate list while grabbing the NCAA lead for the 2023 campaign. He also established the all-time SEC standard in the indoor 5k and demolished the Tennessee program record of 13:41.50 set by two-time Olympian VFL Todd Williams in 1991.
 
The Orland Park, Illinois, native ranks third in collegiate history behind Arizona's Lawi Lalang (Kenya) and Florida State's Adriaan Wildschutt (South Africa) and improved his previous standing as the top American performer in NCAA annals. Tennessee distance coach Sean Carlson has guided athletes to five American collegiate record performances over the last three seasons.
 
Abdalla suited up in the 3k after breaking the school's event record in December on the same track, this time lowering his program standard to 7:42.23 to place second among collegiate athletes on Friday. He catapulted to No. 6 on the all-time collegiate list and No. 2 in SEC history, trailing only former Arkansas Razorback Alistair Cragg who ran 7:38.59 on Feb. 14, 2004.
 
In addition to lowering his school record, Abdalla also took down the Sudanese national record with his performance on Friday in Boston.
 
Fresh off his school record-setting performance in the mile last week at Vanderbilt, redshirt sophomore Canaan Anderson trekked to Boston and finished 20th overall and ninth among collegiate athletes with a time of 4:01.27.
 
UP NEXT: The Lady Vols will have five distance runners in action tomorrow at the Terrier Classic, beginning with Brooke Dixon in the mile at 3:45 p.m. before Msgana Araya, Jasmine Fehr, Kayla Gholar, Rachel Sutliff and Callie Tucker run the 3,000-meter at 5 p.m.