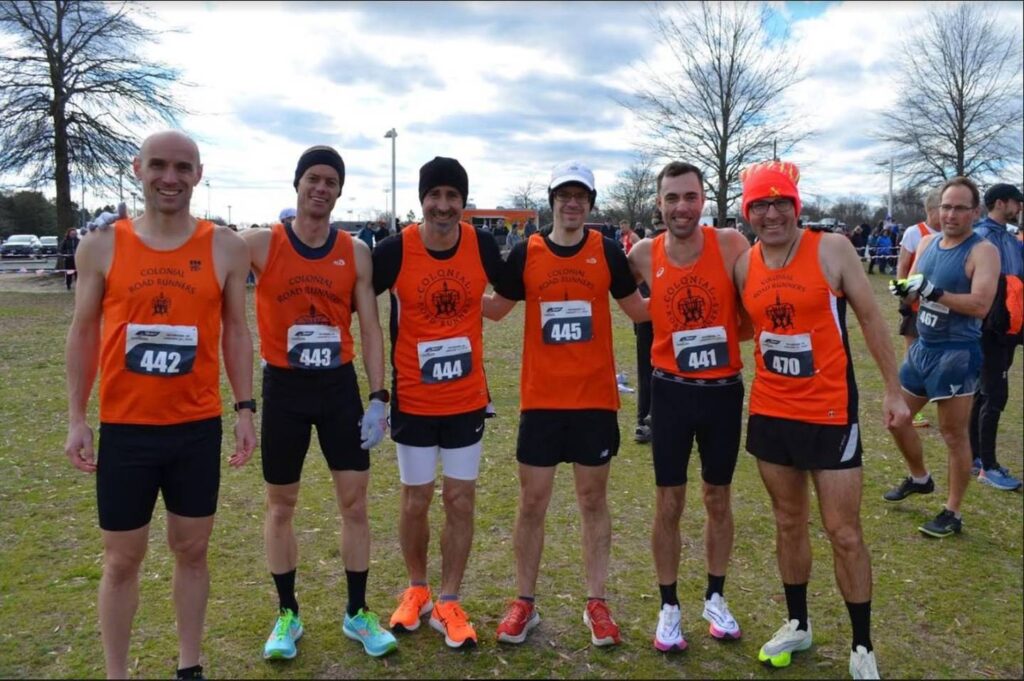 CRR runners join up, fare well in national meet – Daily Press
After a year of competing against each other in the 24 races of the 2022 Colonial Road Runners Grand Prix, the CRR's fastest runners joined forces last Saturday to compete in the USATF National Masters Cross Country Championships at Pole Green Park in Mechanicsville.
The Masters competition is for runners ages 40-and-over, and there were five-year age groups, up to 85-and-over for the individuals, and 10-year age groups from 40-49 up to 70-and-over for the teams. The meet attracted hundreds of the fastest American 40+ runners from New England to Florida, and out to the West Coast, although the largest turnout was from the Middle Atlantic and South states.
Advertisement
Adam Otstot, 40, who broke CRR all-time records last year at the 5K, 8K and 10K distances, led the way with a fourth-place overall finish in the Masters men's race, leading his team to a second-place finish for men 40-49.
Otstot emailed, "I had the best experience with my first USATF Masters Cross Country Championships. First a huge hats off to Tim [Stewart] and Rob [Whitaker] for all of their efforts organizing the logistics and sharing their knowledge with the rules and regulations that had to be followed. The weather on race day was about as perfect as you could ask for in January, and that combined with the dry, flat, and well-manicured course made the event conducive for some incredibly fast running. After setting some local records as a Masters athlete, I was excited and honored to compete against some of my peers around the country. The best part about this meet was that I was able to compete with many of my friends and competitors, and while I had individual ambitions, I was also determined to run my best so that our collective group could shine as well. Included on the Colonial Road Runners 40+ team was Jamestown High School teacher and head cross country and track coach Mark Tompkins, Ed Rietscha, Ryan Carroll, and two out-of-state guests Chris Pruitt and Clark Ridge. Chris and I were actually in the same recruiting class at William & Mary in 2000 for cross country and track, and ran as teammates for a year and a half before he transferred to Penn State in the middle of his sophomore year. He has continued to train and race at a very high level, and we reconnected in 2020 through the Zwift e-cycling platform where we started competing on the Relentless e-sport team together. With his connections to the area and with ambitions to also test himself as a first-year Masters athlete, it was a natural fit to have him race in the CRR colors."
Advertisement
About his own competitive race, Otstot emailed, "The race started out fast and a group of six runners established a small lead over the chase pack. I was in that lead group which ended up as five after the first kilometer. Once we hit the 2K mark [eventual winner Ben] Bruce threw in a huge surge and just decimated our group. I ended up being isolated in fourth after the dust settled, and from there it was a relatively lonely race for me."
Team co-coordinator Rob Whitaker emailed, "The Pole Green course is a great venue. We wanted to bring a large CRR contingent because of the very high level of competition and the opportunity to race in a national championship. Many CRR members have never raced at that level. Getting the teams organized was a bit of work—recruiting talent, getting their USATF membership established for the newbies or renewed for those who don't race at the USATF level very often. Tim Stewart did tremendous work on the back end with the IT and USATF to make it smooth for the athletes. I really want to push to get more robust teams together for 2024. The highlight of the day, seeing Chris Pruitt (third overall) and Adam Otstot (fourth overall) for the M40 team, wow, what a performance. And the M40 team in second with our W40 team on the podium in third place!! Tim also had our CRR tents set up with a place for all the runners, food, heat—he's first class all the way!"
The men ran 8K (four loops of the 2K course) and the women ran 6K (three loops). Benjamin Bruce, running for HOKA, averaged 5:02 per mile with his 25:00 time. Neil McDonagh of Square State Striders (Col.) was runner-up in 25:26, with CRR taking the next two spots in the field of 174 finishers—Pruitt in 25:58 and Otstot in 26:34, with Scott Burns of the Greater Philadelphia TC a close fifth in 26:40.
The remainder of the CRR M40 team were Ryan Carroll (28:01), John Lomogda (28:45), Mark Tompkins (29:02) and Ed Rietscha (30:12). The top three 40+ teams, with top five scoring, were the Greater Philadelphia TC (29 points), Colonial Road Runners (46) and Blacksburg Striders (75).
CRR's top 50+ runner was Keith Schumann (29:22), followed by Timothy Suhr (31:59), Steven Kast (32:06), Steven Menzies (32:28), Joe Calkins (32:59), Paul Pelletier (33:33) and David Anderson (33:42). The CRR 50+ team was fourth (82 points), behind Greater Springfield Harriers (46), Chattanooga TC (50) and Atlanta TC (71), but ahead of Greater Philadelphia (109) and Shore Athletic Club (144).
For the CRR 60+ team, the fastest were Pete Gibson (33:45), Robert Whitaker (33:56), Richard Grant (35:52) and Jim Thornton (37:24). With just three scoring for 60+ competition, the CRR 60+ team placed fifth (46 points), behind Atlanta (13), Shore AC (21), Greater Philadelphia (23) and Pike Creek Valley RC (39), but ahead of Ann Arbor TC (56) and Genesee Valley Harriers (65).
The women's Masters race was won easily by April Lund of Bismarck, North Dakota in 22:03 for the 6K distance, with 54 finishers. The top CRR runners were Megan Schulze (26:48), Kelly Cox (27:31), and Jessica Anderson (29:43), who helped their F40 team to a third place finish with 21 points, behind Greater Philadelphia (10) and Pike Creek Valley (18), but ahead of Shore AC (29), three scoring per team.
The CRR 50+ team was fifth, led by Deelyn Robinson (27:54), Maria Peters (34:12) and Alyson Kast (36:07).
Advertisement
In the open women's 10K race, the USA qualifier for the World Cross Country Championships in Australia, Ann Mazur was fastest of the CRR runners with a time of 38:39, with Bethany Spector at 42:25 and Rachel Tischler at 44:02. In the open men's 10K race, also a World Championship qualifier, Stephen Chantry, Jr. was the lone CRR contestant, running a time of 36:38. And finally, in the Junior men's 8K (ages 19-and-under), the CRR's Isaac Lamprecht, the New Kent High star, competing mostly against college freshmen and sophomores, ran an impressive 8K time of 25:43, the second fastest 16-year-old in the race, and a time faster than both Pruitt and Otstot of the CRR men's Masters team.
Schumann emailed, "The USATF XC Nationals was an unexpected highlight for me. After many, many long distance triathlons, this was my first running race since last spring's Queens Lake 5K. The camaraderie of being on the CRR team brought a special element to this race. Pole Green Park was a perfect venue and USATF put on a great event. I look forward to racing with the team here next year." The USATF will hold the national Masters meet at Pole Green again next year, with the date set for Saturday, January 20, 2024.
Menzies emailed to his team on Sunday, "That was an absolute blast yesterday. So glad I had an opportunity to join in with my friends from so many races the past twenty years. Our collective love of this sport that brought my life such joy, purpose and perspective was apparent in every smile and congratulations. Another shoutout to Tim and Rob for their dedication and professionalism. "
Schulze, the leading runner for the CRR women's Masters, emailed, "I loved the course. I enjoy cross country and trail events so much more than races on the road. I was worried that it might be muddy and I didn't have spikes, but we lucked out and it was really pretty perfect out there. It was an incredible experience running with so many talented athletes. This was one of the most competitive races I've ever run. There was a 71-year-old woman who finished 2 places behind me. I'm completely amazed!" That woman was the legendary Kathryn Martin, who ran 27:15 for a world-class age grade of 94.7%, higher than any other Masters runner, male or female, for the day.
Rick Platt is president of Colonial Road Runners.