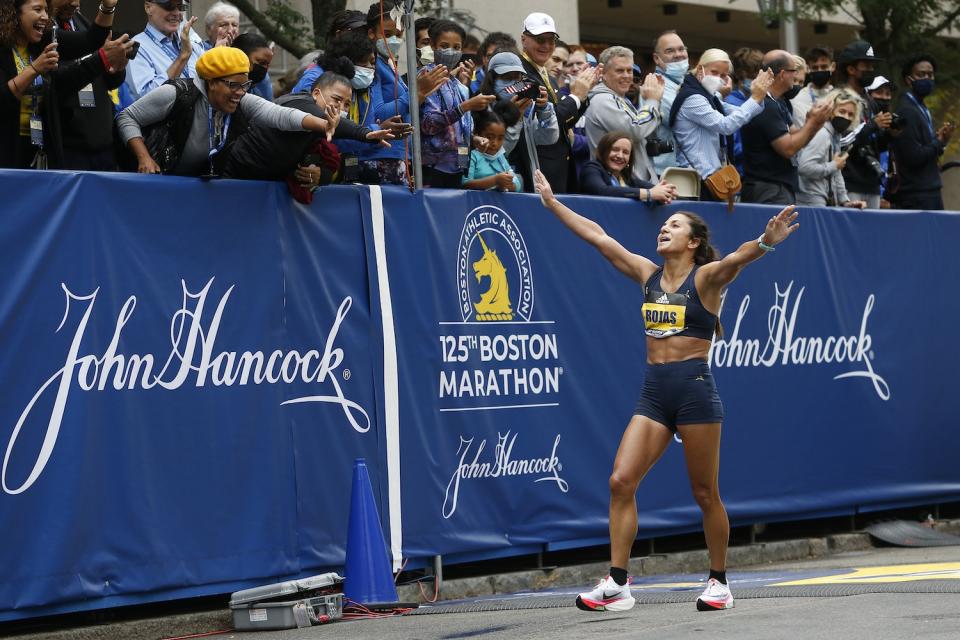 Iten, Kenya, Is Where Running Champions Are Made – Yahoo Life
This article originally appeared on Outside
Nestled six hours northwest of Nairobi, Kenya, sits the small town of Iten. At 8,000 feet above sea level, Iten is marked with lush vegetation and striped with Kenya's iconic red clay roads. Running champions are made here, on the edge of the Rift Valley.
Specifically, the region centers around Eldoret, 20 miles from Iten, which has become the epicenter of long-distance running in Kenya since the country began to rise to prominence on the world stage in the 1960s. Most runners come to Iten to elevate their running in training camps with a desire to compete in the world's most competitive and prestigious races thousands of miles away. That includes scores of Kenyan athletes, but also, at any given time, a handful of international runners seeking inspiration and, at least temporarily, uncomplicated focus on their training.
Two American runners, marathoner Nell Rojas and 10K specialist Natosha Rogers, have been training in Iten this month, in the hopes of soaking up the greatness that surrounds them. Rojas, a Nike-sponsored athlete who lives in Boulder, Colorado, is taking part in a two-week camp with the Sweat Elite training team.
"I first heard of Iten when my friend Luis Orta began putting on running camps here," Rojas told Women's Running, via email from Kenya, in between sessions. "I remember watching his videos of workouts at the Eldoret track, long runs on Moiben Road, and easy runs in the forests surrounding the town. The talk of the perfect training environment hooked me."
Rojas, 35, was the top American woman finisher in the 2021 and 2022 Boston Marathon and is training for a return appearance at this year's race on April 17. She is also partnering with photographer Mike Thurk, and the pair is hoping to speak with as many women as possible about what it's like to be a female runner in Kenya.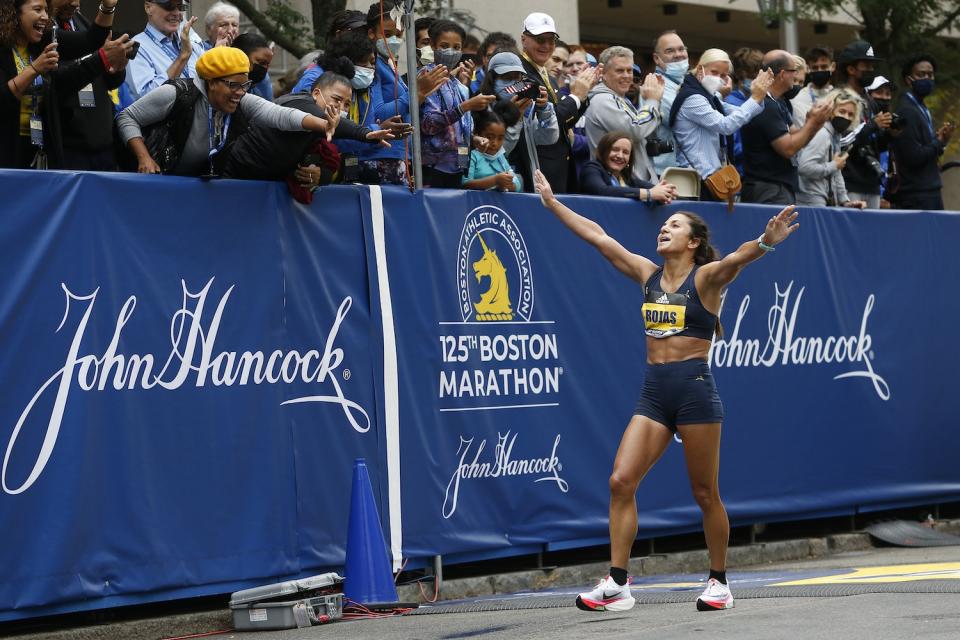 "After paying attention to [runner] Mary Ngugi and her efforts in stopping violence against women in Kenya, and watching a documentary on [runner] Joan Chelimo's 'Tirop Angels'–an organization that protects women against gender-based violence–we wanted to learn more and put a spotlight on the violence against Kenyan women in distance running," Rojas says.
Rogers, 31, who lives in Denver, is spending a month in Iten after signing a new sponsorship deal with Puma. She was a finalist in the 10,000m at 2022 World Athletics Championships last summer in Eugene, Oregon, and is preparing for a season of racing on the track and roads in the U.S.
"I hope to gain a rekindled love with running and a newfound mentality [while in Iten]," Rogers said. "In the world we live in today, it is easy to get caught up with what everyone else is doing and be too focused on the outcome. With no Wi-Fi and being so far away from everything, I can truly just do what I love, and my performances come as a result of that."
The Home of Champions
Both Rojas and Rogers said that the natural beauty and running culture of Iten is blowing them away, as well as the depth of talented runners who train there.
"When I saw videos of the workouts on the track in Eldoret, a city 45 minutes outside of Iten, I thought it must have been a special day because there were hundreds of elite-level runners on the track," Rojas said. "I was wrong. On any given Tuesday there will be packs of the best runners in the world forming a train around the track, Eliud Kipchoge often included. On a walk back from a run, you will bump into 2:17 female and 2:06 male marathoners who are happy to talk with you."
Rojas also said the natural terrain of Iten is exquisite: "Iten sits over a vast valley with lush forests, and the colors of the sunrises and sunsets set the dirt roads on fire."
Hundreds of runners will attend local group training runs on the sprawling roads outside of Iten. These long runs start slow, but gradually get much faster and nearly all of the runners maintain the elite-level pace. Athletes can also train at one of the small gyms in Iten (don't expect air conditioning) and stay at one of the many accommodations in town that provide runners with everything they need to be successful, including incredible food centered on the Kenyan staples of ugali (cornmeal swallow) and chapati (unleavened flatbread).
"I have never eaten so healthy in my entire life," Rogers said. "Every day is a well-balanced meal [consisting of] meat, veggies, fruit, chapati, ugali, and lots of tea. I have been trying to eat twice as much because of how much [energy I] seem to be burning here."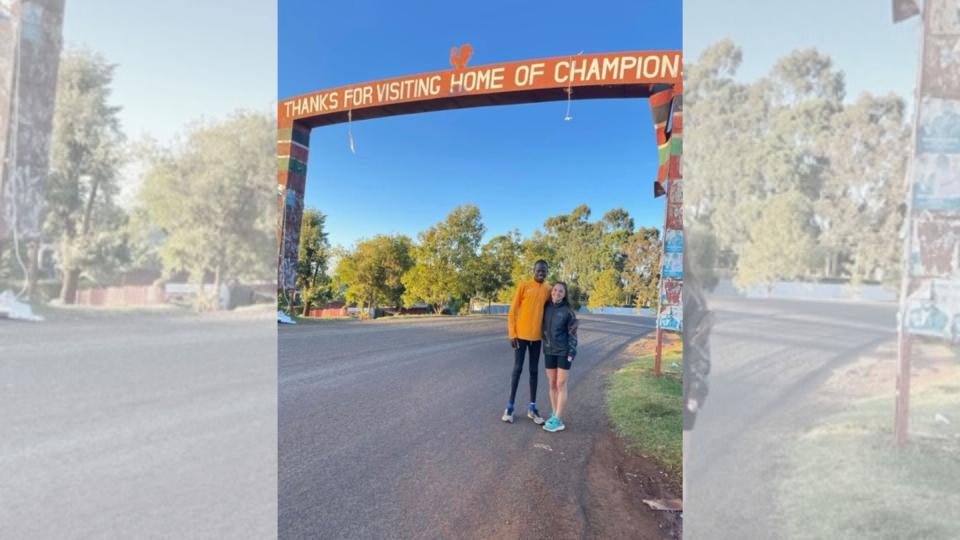 The Iten Way
Training in Iten is unlike anywhere else in the world. It's impossible not to be giddy about being around some of the speediest runners on Earth. Rogers described the Kenyan workout sessions as "systematic and regimented, yet simple and not over-complicated." Rojas described how a simple-sounding fartlek workout with the Kenyans in Iten was much harder than it appeared on paper.
"The most famous Kenyan workouts are the fartleks they do on Thursdays. I found a lady to try to pace off who turned out to be a 2:23 marathoner and dropped me six repetitions in," Rojas said. "The terrain [in Iten] is incredibly hard to run fast on, it's more like trail running [in the sense of] having to search for a flat place to put your foot."
Nearly 200 runners may show up for the Thursday fartlek, and the workout is not given to the runners until just before the start. They can choose between two courses, one of which, aptly named "Boston," mimics the downhill start and challenging, rolling hills of the famed marathon course. Regardless of which course is chosen for the day, the fartlek workout consists of 50 minutes following one of these interval options:
Option 1: 1 minute "on" / 1 minute "off"

Option 2: 2 minutes "on" / 1 minute "off"

Option 3: 3 minutes "on" / 1 minute "off"
The simplest workouts, Rojas says, become very challenging when trying to keep up with runners who all easily surpass a 2:30 marathon. A week of training in Iten might look something like this:
Monday
6 A.M.: Moderate 20K on hills in the forest

4 P.M.: 30 minutes easy run, ending in "diagonals" (long strides) followed by "exercise," which is a group core workout
Tuesday
6 A.M.: 20x400m on Tambach Track

4 P.M.: easy 8K
Wednesday
6 A.M.: easy 8K

10 A.M.: 12 x hill repeats,

4 P.M.: easy 30 min run followed by "exercise," which is a group core workout.
Thursday
6 A.M.: easy 8K

10 A.M.: fartlek (outlined above)
Friday
6 A.M.: easy 12K

4 P.M.: easy 8-10K
Saturday
6 A.M.: 40K progressive long run
Sunday
To counterbalance such workouts, runners of Iten take their recovery seriously–napping, reading, eating, and preparing their bodies for the next session. These elite runners generally thrive on routine: same wake-up time, same workout time, similar routes, similar meals, same bedtime each day. There are benefits to this: less stress, fewer decisions to make, and a comfort that comes with repetition.
Journey to a New Perspective
Rojas described the journey to get to Iten as long but beneficial, even if she was physically exhausted from the 8,700-mile journey which takes over 30 hours of travel.
"I've been describing the mentality as 'No problem, I can do that,'" Rojas said. "[The runners look at everything as] positive and achievable…I will try to take that home with me."
Rogers, who usually trains solo, has experienced a tremendous benefit from doing sessions with other runners. "[Training in Iten] has made me realize that training truly is better together and holding each other accountable to a routine," she said. "I highly recommend getting out of one's training bubble. Don't stay stagnant in your ways. Challenge yourself!"
Though most of us lack the resources, time, and ability to train with Kenyan champions in Iten, we can all benefit by adopting their positive mentality, group energy, accountability, nutritional habits, and training patterns. The results might surprise us.
For exclusive access to all of our fitness, gear, adventure, and travel stories, plus discounts on trips, events, and gear, sign up for Outside+ today.