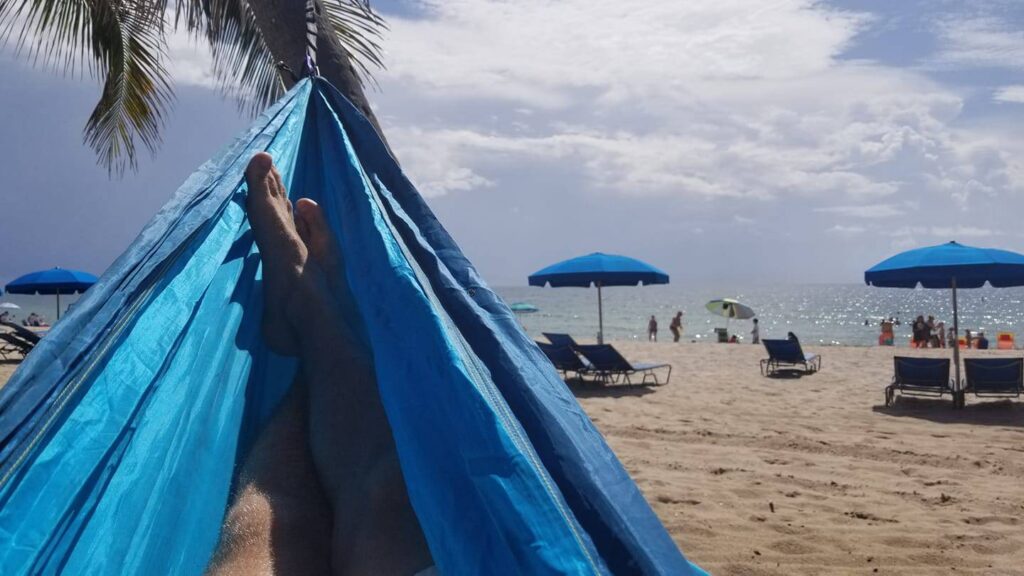 Type 2 fun: When the going gets tough — but makes for a great story … – Orlando Sentinel
There's nothing quite like the feeling of heading off on an idyllic vacation where everything is pristine, put together and perfect.
Maybe you wined and dined in Italy or took photos fit for a postcard at the Grand Canyon. But for every one of those ideal experiences, you can probably picture several other times when things didn't go quite right.
Advertisement
Perhaps luggage went missing, a connecting flight was missed or the rental car broke down in the middle of the desert. And while travel headaches are common, these types of less-than-ideal experiences are especially regular for outdoor explorers.
Allow me to introduce the "fun scale." Type I fun is both a good time at the moment and a fond memory later, i.e., beers on the beach at sunset, an easygoing hike on a beautiful day or time spent lying in a hammock.
Advertisement
Type III fun: "This is a terrible time, I could have potentially lost my life or at least ended up in the hospital, and I'll remember it as being awful when thinking back on this time." Events that fall into this category include backpacking trip diarrhea, a capsized kayak in a downpour with 4-foot sea swells or even something nagging like a swarm of mosquitoes inside your tent.
[ Be prepared: 8 tips when exploring the outdoors ]
Type II fun is where the real magic happens. Maybe it didn't feel quite so pleasant in the process, or maybe you put yourself through the wringer just to see how you'd fare. These are the types of experiences that frequent explorers know all too well. Things don't go quite according to plan, but somehow you got through it and had a good laugh later. The brain has a convenient way of sugarcoating hardship in retrospect.
Tough mudders, marathon runners, long-distance cyclists, adventure racers and other varieties of extreme adventurers are especially familiar with Type II fun and might even seek it out.
Last year's foraging adventure on the Florida Trail — in which my friend and I hiked for 22 miles with no packed food — certainly fits into this category. Or there was the time I found my tires buried and stuck in sand while driving the rugged trails of Ocala National Forest.
Consider local legends like J.C. Mazza and Jim Fletcher, who biked from Georgia to Key West in 2021, or Greg Pflug, who recently paddled around Florida in record time, dealing with subfreezing temperatures and 30 mph winds along the way.
[ Central Florida man, friend become fastest-known kayakers to paddle around Florida ]
I have Type II memories from growing up, like the time I got my family all the way across the lake on a sailboat … and couldn't quite find the breeze to get us back. That's not to mention the story of when I got us a bit too far-off the beaten path while geocaching.
I've spent enough time outdoors to trust that when something goes wrong, nine times out of 10, I can stay levelheaded and get myself out of the situation just fine. I've gotten smarter over time and the tools at my disposal have gotten better — but I still have plenty of Type II stories to recall.
When I moved to Las Vegas to intern for the Las Vegas Review-Journal, I was taken with the desert scenery and quickly got to work exploring my temporary home. I spent a sunny day enjoying Valley of Fire State Park before I had to be back in town for an evening assignment, a benefit concert featuring singer-songwriter Jewel.
Advertisement
Most assignments themselves aren't that perilous, though there was that nerve-wracking air balloon ride where I thought we might descend onto the interstate. Needless to say, I lived to talk about it.
During my Valley of Fire visit, I ran into a traveler named Jan from the Netherlands, and we spent time on the trail together talking about politics and interesting American social norms. After chatting for a while, we parted ways, and I quickly realized I was helplessly lost — and the desert is the kind of place you can die if you're not careful.
[ Subscribe to our Things to Do This Weekend newsletter ]
I had plenty of food and water but no cellphone service to get my bearings. From a high vantage point, I could see part of a trail that ended up taking me five miles straight through the park — but ultimately led to a road. With just enough cellphone service, I called the ranger station but learned park staff members were tied up.
I flagged down some nice Californians who were generous enough to give me a ride back to my car. Better yet, I made it to my work assignment with time to spare.
Once upon a time, I was a photojournalism student studying abroad in Scotland with a nagging question: "Where shall I go today?" I had a train pass and itchy feet. I chose Falkirk, home to two of Scotland's architectural and engineering masterpieces.
I made the brash decision to walk to the Falkirk Wheel, an innovative rotating boat lift, rather than trying to figure out how the town's public transportation worked. I shuffled along for a few miles and happened to arrive after the wheel stopped operating for the day, but it was still a neat sight.
Advertisement
It was then I got an idea in my head to also visit the Kelpies, a monument that pays homage to Scotland's working horses. I assumed that I might find a bus or cab while walking in their direction (a journey of several miles), but I had no luck in the somewhat sleepy rural town of Falkirk.
Like somebody making the pilgrimage to the Holy Land after traveling for weeks, I was struck with awe and wonder when I finally saw the massive horse heads towering in the distance. I had seen them in photos but didn't quite realize the scale. They were magnificent and worth the journey.
After walking somewhere around eight or nine miles that day, I couldn't fathom walking another three back to the train station. Fortunately, I was able to borrow somebody's phone to hail a cab, giving me the chance to relish modern transportation again.
Every time I go camping, it's cold. I don't know if planning a camping trip causes the weather or if I happen to pick weekends where it ends up being chilly. Which came first, the chicken or the egg?
It also seems that sometimes my outdoor escapes attract rain, but random monsoons are familiar to most Floridians and probably unrelated to me stepping foot outside.
On a Suwannee River paddling trip in early 2021, my companions and I suffered through temperatures in the low 50s and a driving rainstorm. How did I cope? Singing. Red Hot Chili Peppers, Weezer, you name it — whatever it took to get me through that time. We also warmed our hands around a tiny one-burner camp stove as we stopped to heat up lunch.
Advertisement
Perhaps part of what makes Type II fun so, well, fun is that these uncomfortable experiences remind us of our humanity and the suffering that's inherent in life.
It's not the kind of thing I actively seek out (at least not often), but I know going outdoors carries risk and the chances are good that conditions might not always be ideal. That usually doesn't deter me too much. If anything, venturing outdoors inspires me to push myself and find my limits — and occasionally keep going after I've found them.
[ My first adventure race: Scratched, soaked but having a blast ]
Sometimes the moments where I feel most alive are the times when I'm dealing with physical pain and discomfort, like being soaked to the bone on my self-guided cycling adventure race around Lake Apopka in 2020. But you have to live through those uncomfortable experiences to remember just how good you have it — or maybe to be a little more careful next time.
Find me @PConnPie on Twitter and Instagram or send me an email: pconnolly@orlandosentinel.com. For more fun things, follow @fun.things.orlando on Instagram, Facebook and Twitter.