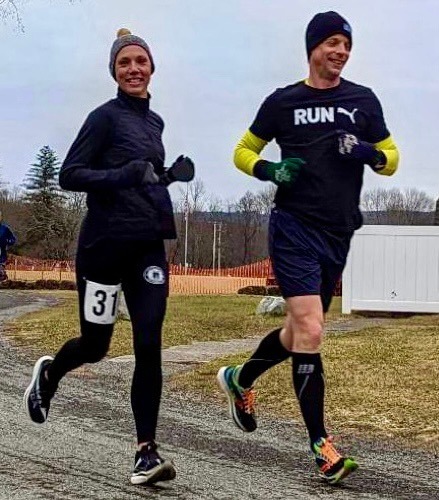 Steve Schallenkamp: Race entries down sharply from pre-pandemic levels – The Daily Freeman
The COVID-19 pandemic hit the United States in March 2020, and the country came to a standstill.
The last area race to happen in 2020 was the Celebrate Life Half Marathon in Rock Hill. The Kingston Shamrock Run was canceled, and all area races followed suit.
Then-Gov. Andrew Cuomo then banned gatherings, and we all started to wear masks and keep our distance. Schools, restaurants, many businesses, and gyms were closed. New protocols were developed to allow for limited interactions, such as curbside pickup and one-way traffic flow in supermarkets.
In the running world, the idea of virtual races emerged. For-profit race companies, charity runs, and running club events quickly embraced virtual races to keep people engaged. Initially, virtual races were a set distance you could run anywhere at any time, such as 5K, 10K, or half-marathon.
You would submit your time, and results would be generated.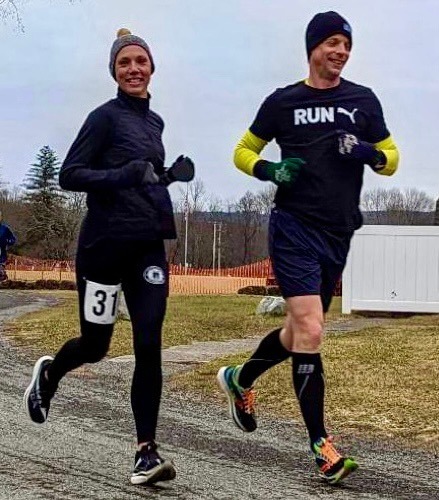 The Shawangunk Runners Club added a twist to the virtual concept. The club designed a five-race series called the Sky Lakes and Landscapes Series. They used five popular running routes that were well-marked and created digital maps that people could use to navigate the courses. This way, all participants ran the same routes, and their times could be more accurately compared. Awards were based on the completion of the runs. Runners eager for motivation and some sense of normalcy embraced the concept.
The next step in the evolution of hybrid virtual races was when gathering limits were increased. Organizers made one day of the one-week time periods, typically a Sunday, a day when people comfortable running with others would meet. In a sense, it was a "mini race" where it was easy
to avoid crowding and maintain social distance. The 2021 Kingston Summer Series used the concept of a "rolling start," meaning people had a two-hour start window to come and run, which helped eliminate any crowding. These events did not have a natural race feel, but they were better than nothing.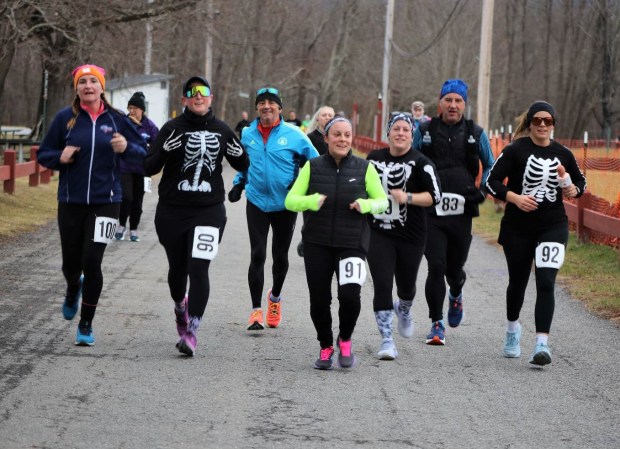 In 2021, after gathering limits were lifted, and COVID-19 vaccines became widely available, most area races returned to in-person events. These in-person races continued some Covid protocols, such as no refreshments or award ceremonies. The Onteora Runners Club and the Shawangunk
Runners continued to offer a virtual option for individuals uncomfortable with in-person events.
However, by the time 2022 arrived, people availing themselves of virtual running opportunities significantly waned. Like in other areas of life, COVID-19 was being treated not as a pandemic but as an endemic illness. Initially, many people thought running would rebound quickly and that runners would flock back to races.
Runsignup, the largest race registration company in the United States, used data from 68,000 races to highlight running trends in 2022. Its data shows that race entries were down anywhere from 10% to 24% from the pre-pandemic year of 2019. The data also highlighted that there are
now more running events than previously, but the average attendance or size of races in 2022 was smaller than in 2019.
These two trends have had a ripple effect. Races in the United States fall into three general categories: for-profit events, charity races, and running club events. With the average race shrinking due to an oversaturation of the market, the only way to keep profit margins the same or fundraising goals the same is to raise entry fees.
When it comes to business and fundraising, the goal is never to stay the same. The Runsignup data clearly shows that race entry fees continue to climb. Running clubs are typically non-profit organizations with more wiggle room for not raising prices. Running club events continue to be the best buy in the "running industry." Another significant trend that the Runsignup data highlighted is the decreasing number of runners in the 20- to 35-year-old age groups. This trend is a serious red flag for the long-term health of the running world.
Frozen Looper
The Eastern Dutchess Road Runners Club (EDRRC) is a fairly new running club in the area. It is headquartered in Pawling, N.Y., and was formed in 2016. The club has become increasingly active in promoting running and presenting events for area runners.
On Sunday, Jan. 22, the EDRRC hosted its third annual Frozen Looper event at Lakeside Park in Pawling. The event used a .54-mile loop, and each runner had up to 4 hours to complete as many miles as they could or desired to run. For each loop, you received a bead to make a bracelet or necklace.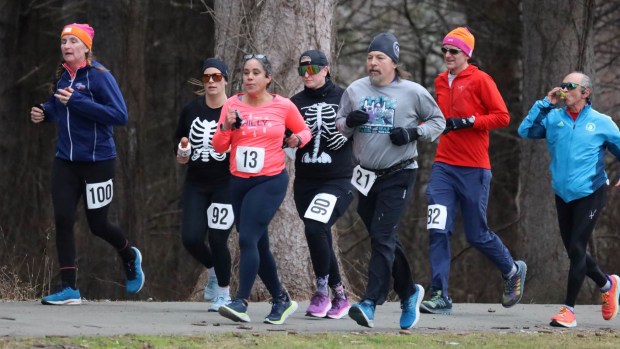 This year's event had a record 94 participants. Only a minority of people attempted to run for all four hours. However, like the Recover From the Holidays 50K earlier in January, many people used this run to achieve personal goals. Race Director Angela Legg Carter said, "Many people ran their first marathon distance, or first double-digit run, or their longest run ever — lots of fun accomplishments." They did it in a highly supportive and enthusiastic environment.
The top three men were Kent Rinehart (29.68 miles), Matt Decker (27.02), and Ryan Miller (26.40). The first-place woman was Kristin Sherwood, who ran 29.68 miles. Sherwood shattered the women's record by over two miles. Rinehart and Sherwood ran side-by-side for the entire time and should be referred to as co-winners.
Bobbie Davey (25.96 miles) and Jennifer Bernard (24.37 miles) took second and third place for the women, respectively. Seventeen people completed more than 20 miles. The youngest participant was 4-year-old Miro Audet, who, with his 6-year-old sister, Alice, completed 2.08 miles.
Another competition held in conjunction with the run was a Chili Cook-Off. What a brilliant way to provide hot chili for all the participants! The cook-off winner was Maggie McCabe, whose son Kris Lowe was the race photographer. Congratulations to the Eastern Dutchess Road Runners
and Angela Legg Carter for providing such a fun running event. For more information on upcoming EDRRC events, visit its website at edrrc.org.
Snow Moon Festival 5K
New this year, Saugerties has a three-day Snow Moon Festival with 25 events scheduled from Feb. 3 through Feb. 5.
Saturday, Feb. 4, is the date of the Snow Moon 5K Run/Walk at the Cantine Veteran's Memorial Sports Complex. This fun run 5K will be entirely within the Cantine and Kiwanis Ice Arena grounds. The course is predominantly flat and is an out-and-back.
Awards will be given to the top three men, women, and children. All registrants will receive a commemorative T-shirt. In addition, there will be a post-race continental breakfast and hot chocolate. DJ Music Fusion will provide music. And most importantly of all, proceeds from this event are donated to the Saugerties area food pantry.
Coincidentally, the Onteora Runners Club (ORC) Winter Breakfast Run No. 5 was scheduled to be on Feb. 4 from the Kiwanis Ice Arena. To support this new event, the ORC decided to replace its traditional breakfast run with this race. Running, breakfast, music, and supporting a food pantry seem like a winning combination. For all information on the run and other events that are part of this Festival, visit the web page https://saugertiessnowmoonfestival.com/events.
Kiwanis Kingston Classic
Planning for the 39th Annual Kiwanis Kingston Classic is well underway. The Classic Race Committee has been meeting since early December. The race date is Sunday, April 23.
The event will have three races making it suitable for all. The 10K and 5K races will take off from the Waterfront District in downtown Kingston at 10:00 a.m. The 1.5-mile run will go off at 10:15 a.m. Everything is centered around the Hudson Valley Maritime Museum boat building school. The Ole Savannah Restaurant will once again host a memorable post-race party. All three race courses used last year will be used again.
After 38 years, area runners know that the Kiwanis Kingston Classic is a well-organized, fun event that raises money for a service organization that does fantastic work in the community. Remarkably, Kiwanis has been able to keep the event affordable in this era of ever-increasing entry fees. The 10K and 5K pre-registration fee remains $25, with the 1.5-mile event being $15. In addition, organizers heard that some people were disappointed that the 1.5-mile race had no awards. As a result, this year, all the races will have awards.
In 2022, the race committee decided to try a novel approach. Instead of giving every finisher a medal or trinket with only a momentary value, they decided that books would be donated to children for every registrant. I labeled this idea "social swag." I'm amazed and happy to report
that this decision resulted in 2,600 books being purchased that will be distributed in February at George Washington Elementary School. Each year Kiwanis will select a different school. Personally, it makes me proud to be part of such an effort.
For several years, local artist Judy Adams has designed the race T-shirt. She generally uses designs related to the waterfront. One year it was the Kingston Lighthouse, and last year it was the Mathilda tugboat. This year, she has a fantastic idea, and I can't wait to see how it turns out. I'm considering entering the event twice to get two shirts. So do yourself and the Kingston community a favor and circle April 23 on your calendar now.
Additionally
One last reminder to join in on the running fun the Onteora Runners Club has organized for the winter of 2023. For information on the ORC Saturday Breakfast Runs, visit the club website, onteorarunnersclub.org. For information on the ORC Winter Survivors Series, visit www.zippy-reg.com.
Ulster County's "unofficial start" to spring, the Kingston Shamrock Parade and Run, is scheduled for March 12. For all information and to register for the run, visit the website shamrockrun.org.
Steve Schallenkamp has been active in area running circles since 1966 as a runner, race director, volunteer and coach. He is a member of the Onteora Runners Club and president of the Shawangunk Runners Club.