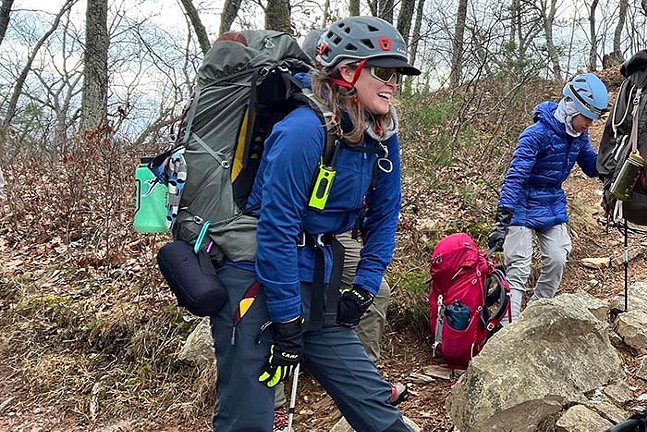 How to prepare for outdoor fun in a Pittsburgh winter – PGH City Paper
Being able to recommend outdoor equipment means actually spending time outdoors. In an effort to help readers prepare for their next cold-weather adventure, Pittsburgh City Paper reached out to 3 Rivers Outdoor Company, a local, independently-owned purveyor of equipment and apparel for hiking, climbing, backpacking, camping, and more. More than just a retailer, 3ROC also organizes events for area outdoor enthusiasts.
Wren Wann, a store manager at 3ROC, has a love for hiking, running, and cross-country skiing, and attended mountaineering school with the Explorers Club of Pittsburgh.
Wann provided a list of items she recommends to stay warm, safe, hydrated, and fed while hiking or trail running in the many parks and trail systems in Southwestern Pennsylvania.
Trail Run
Start with a base layer of a moisture-wicking shirt and full-length running tights. Add fleece for a middle-layer and finish with a protective hooded outer layer. In terms of footwear, Wann recommends cushioned running socks and specially designed trail-running shoes.
Wann says runners can add helpful accessories to their outfit, including traction spikes, gloves, and a beanie.
Wann recommends:

Base layer: Syncrino top from the Rab company and Peak Mission Tights from Patagonia
Middle layer: Otero quarter-zip fleece from Cotopaxi
Outer layer: Ferrosi Hoodie by Outdoor Research
Footwear: Cushioned socks by Darn Tough, the Speedgoat 5 sneaker by Hoka
Accessories: Traction spikes by Black Diamond, Backstop Sensor Gloves by Outdoor Research, lightweight, Merino wool beanie by Buff
Winter Hike
Like winter trail running, winter hiking is best enjoyed with three layers of clothing. For footwear, Wann slips on cushioned hiking socks and waterproof boots.
In terms of accessories, Wann recommends traction spikes, lightweight trekking poles, and gloves.
Wann recommends:
Base layer: Long-sleeved tops and tights from Rab's Forge collection, or from Patagonia's Capilene Air collection
Middle layer: R1 Air quarter-zip fleece from Patagonia
Outer layer: Rab Kinetic 2.0 waterproof jacket, Cotopaxi Fuego down jacket, Rab Khroma Ascendor pants
Footwear: Cushioned hiking socks by Darn Tough, Groove Mid G-Dry boot by Garmont.
Accessories: Traction spikes by Yaktrax, lightweight trekking poles by Leki Makalu, Quest Infinium gloves by Rab, 150 Sensor Liners and Flurry Mitts by Outdoor Research
Food/Drink
Wann tells City Paper, "Hydration is very important in the winter. The body's natural 'thirst' response doesn't occur as frequently as it does in the warmer months." She adds that if adventurers are worried about their water supply freezing, they should find a hydration backpack with an insulated hose or travel with water bottles inside a backpack.
Wann says "favorite snacks" are a requirement for any hike. She says that 3ROC staff preferences include Clif bars or the Pittsburgh-made Best Ever Granola.
Wann recommends:
Osprey Hikelite hydration backpack
Osprey Duro/Dyna hydration vest
Safety
For journeys lasting three or more miles, especially those in "wilderness areas," Wann says hikers or runners should bring an emergency bivy sack (a kind-of sleeping bag/tent hybrid), a first-aid kit, and fire-starting supplies. For an extra boost on a long hike, Wann recommends energy-giving snacks, as well as hydration supplements that add electrolytes to water.
Wann says a headlamp is "always good to have" as winter brings earlier sunsets. Speaking of the sun, Wann notes sunglasses are "especially important" to protect your eyes from being damaged by "snow blindness" from UV rays reflecting off snow and ice.
Wann recommends:
Snacks: Bloks energy chews, peanut M&M's, Trail Butter, Kate's Real Food bars
Hydration supplement: Nuun
Sunglasses: goodr
Pets
For those bringing dogs along for a run or hike, Wann says Musher's Secret products protect paws from "painful salt burns and snow buildup." She also suggests the Kurgo Loft Jacket made for four-legged friends.