How One Thru-Hiker Turned Ultralighting into a YouTube Career – Outside
If you've spent any time in the ultralight corner of Youtube, chances are you've come across a hiker who goes by the name JupiterHikes. In an online world of clickbait titles, exhaustive gear reviews, and loud personalities, James "Jupiter" Hoher is an understated presence. His videos, which range from pack shakedowns to documentary-style journeys, are quietly inspirational—heavy on positivity and sunlight-drenched vistas. Spend just a few minutes on a virtual hike with Jupiter, and you'll likely feel the urge to leave behind your 9-to-5 grind and follow in his footsteps.
With over six and a half million views on YouTube, Hoher, 31, is now a full-time hiker and filmmaker. We wanted to know what it takes to turn an ultralight hobby into a career—a dream for many thru-hikers—so we asked. In Hoher's case? Start by hiking about 7,000 miles before ever picking up a camera. 
Hoher's foray into backpacking started with a few missteps during an attempt to hike the Appalachian Trail. In 2012, a few years removed from graduating high school, he picked a trailhead in Georgia and set off. 
"I didn't even start at Springer Mountain because I didn't know that was where you started," he says. "I didn't know where the next trail town was, so I was carrying as much food as I could." His kit included an 80-liter pack, two pairs of jeans, and camping gear bought at Dick's Sporting Goods. 
Hoher estimates his pack weighed 70 pounds, and by the time he reached Hot Springs, North Carolina, his A.T. hike was over due to injuries caused by the heavy load. "I didn't make it too far, but I made it far enough to have an amazing time, and to see that I wanted to go back and do more of this." He also met a pair of ultralight hikers who showed him a weightless—by comparison—backcountry lifestyle. 
The ensuing years saw him drastically rework the contents of his backpack, and undertake a number of shorter hikes on the Florida Trail, often simply repeating a 60-mile section near his house. "I got a bit obsessed, to the point where I was spending all my free time hiking." 
Before long, he was knocking off that familiar 60-mile section in two days while carrying a frameless 40-liter pack and camping under a tarp. 
Next up was a return to the A.T. in 2016, this time as just one section of the 5,000-mile Eastern Continental Divide Trail, which connects the International A.T. in Quebec, the entire length of the A.T., the Pinhoti Trail, and the Florida Trail. Hiking an average of 24 miles a day, he finished in seven months and set the Florida Trail F.K.T. in the process. Since then, the long hikes have piled up, including the Pacific Crest Trail, Long Trail, Arizona Trail, and Tahoe Rim Trail. 
Hoher made his YouTube debut in 2019, and his breadth of hiking experience is evident in his videos. His gear reviews focus on ultralight standbys, and the majority are titled something like, "A 5,000-mile review of the Frogg Toggs rain jacket." His thru-hiking gear lists, which usually wind up in the six- to seven-pound range, are popular as well. But Hoher's true passion lies in creating documentary-style accounts of his thru-hikes, which he shoots on-trail with live commentary and voiceovers. He seems relentlessly good-spirited, even in the midst of back-to-back 40-mile days, addressing his low points with humor or philosophical musing rather than frustration. 
When he first decided to make videos, he jumped in head-first with the same obsessive streak that motivated him as a hiker. He spent the winter of 2018 recovering from a broken foot caused by a fall during a PCT thru-hike and teaching himself the basics of filmmaking by watching nature documentaries and episodes of Survivorman. A lifelong painter, Hoher approaches his videos with the eye of an artist.
"I want a video to be a representation of how I feel, even if that's not always realistic," he says. "I don't talk about every second, or capture everything that happens. I may have been swept away by a river the day before, and have it on video—but if it doesn't fit, I won't include it."
That doesn't mean he shies away from the realities of trail life in his videos. One recent video opens with a handheld shot of Hoher walking along the PCT: "So the day before yesterday, I had a panic attack." As the camera pans to a beautiful waterfall scene, he describes the overcrowded state park gift shop that brought on his claustrophobia. 
Hoher credits his success (63,000 subscribers and counting) to one main principle: consistency. He can't think of a single video that blew up or went viral. Instead, it's been a slow, steady increase in viewers and subscribers over the four years his channel has existed. "A lot of people will burn themselves out in that first year, or even after five videos. For me, I make sure that people can come back and see what I'm up to, year after year."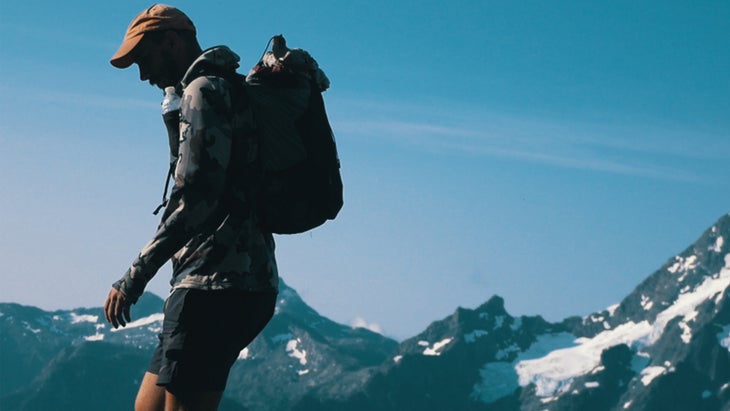 That consistency also means he has to keep hiking. Between thru-hikes, he lives out of a Ford E-150 van and embraces simplicity in order to make his lifestyle work financially.
"I think a lot of people have misconceptions about how much money I make doing this," he says. "Maybe they think I'm getting rich, and that's definitely not true." While he does supplement his YouTube income with a Patreon account and a merch shop that offers T-shirts and original landscape paintings, he's unsponsored and his videos are ad-free. He makes a concerted effort to remain accessible and authentic: "I don't love the words 'content' or 'content creation.' I'm trying to make little films, not just put out content."
With some 14,000 miles of hiking to his name, Hoher's goals as a thru-hiker have changed over time. This year, he plans to focus on lesser-known and more accessible trails that his viewers might find more relatable. One planned trip in 2023 is an urban hike on the San Diego Trans County Trail.
"For some people, a 150-mile hike like this is the adventure of a lifetime," Hoher says. "I don't want to gatekeep just about anything. I just want people to have the same wonderful experience I've had."