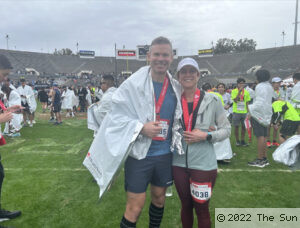 Foot Notes: Introducing Intermittent Fasting to the Routine – The Sun
Anyone who has picked up on my running journey over the years should know at least a little about my trials and tribulations with food and eating. I've certainly written on this topic quite a bit, mostly because binge eating has been a behavior that I've been fighting for as long as I can remember.
Dating back to my days as a literal starving college kid, food wasn't always readily available, so I was always trying to "stock up" when eating opportunities were presented. Life is much more comfortable now, thankfully, but the habit of having seconds and thirds, chased with soda and double desserts, is in many ways the same as it has always been.
This multi-stage war against the scale has dragged on for years, starting when I topped out at just under 270 pounds in 2015. I changed my diet, discovered running, and lost more than 50 pounds. And then I gained most of it back. Rinse. Repeat. Again and again.
The feeling of eating, and the temporary comfort it brings, can be hard for me to handle sometimes. Every day presents a new challenge, because eating isn't just something that you can quit. Imagine telling an alcoholic that they still need to drink every day to survive. That's kind of what it's like trying to face an eating addiction.
My most successful approach came when I ditched "junk" foods altogether years ago. For several months on end, I ate completely clean and drank only water. It was a rigid way of life that all came unraveled in the most unusual of places: The blood bank. As my blood was being drawn, I could feel myself getting fainter and fainter. The medical staff rushed me a Pepsi along with cookies and crackers to help regain my clarity. I'll never forget how sinfully satisfying it all tasted and how quickly afterward I relapsed into binge eating, telling myself it was OK because I was already in the "best shape of my life."
Other diets and exercise plans have come in many shapes and forms since then, and I've had success and eventual failure with all of them. That doesn't mean I've stopped trying.
Lately, I've subscribed to intermittent fasting, a meal-timing schedule that switches between voluntary fasting and non-fasting over a given period of time. I designed my approach to target my biggest weakness, night-time snacking, and am several weeks into my routine, which includes fasting from 7:30 p.m. to 11:30 a.m. each day. It's proven to me what I've known all along: My body doesn't need nearly as much food as I've been packing in.
The eight-hour window of eating was tough at first with almost unbearable feelings of "munchies" coming every night, but I've noticed that I'm not all that hungry when I wake up each morning. Of course as the day moves along I begin to look forward to eating everything in the house, but again, as much as I want to eat my body is feeling full and satisfied after regular servings of meals.
I've been supplementing this diet with heavy-mileage weeks of slow running and walking. Yes, I'll still grab three or four more cookies than the serving size calls for, but regulating the times I allow myself to eat has paid marked dividends. Since my last doctor's appointment in December, when I weighed in at 247 pounds, I've dropped 17 pounds. And I'm losing more every day.
Is this a safe strategy? It depends on who you ask. Fans of intermittent fasting (we all know at least one) swear by this way of life and its benefits. But remember depriving yourself of food for an extended period of time can also raise your stress levels, disrupt your sleep, increase anxiety, and more. If I had to recommend a modification from my personal fasting routine for others to follow, I'd say just start by skipping the after-dinner snacks and monitor how you feel from there.
This is an exciting time for me. I'm becoming a faster runner and fitting into my "younger" clothes once again. My face is thinning out, and I'm actually "small" enough that my arms can handle doing a pull-up or two. I'm not only feeling better, but my confidence is also rising.
Of course, I know I'm not out of the woods yet and also understand that being obsessive about my diet can trigger a different eating disorder altogether. It's a tough line to walk, and like I mentioned before, every day presents a new challenge.
I have no idea how long I can ride this wave of momentum, but I'd love to hang on to this small taste of fitness forever this time, if possible.
1 STEP BACK, 3 STEPS FORWARD
All of us would like to start this first month of the year on the right foot, even if that foot is, well, frozen.
Sun Country runners seeking warmth through running flocked to take on the Frozen Foot 5K, the first in a series of three winter races in Elizabethtown.
Led by top female finisher Julie Halteman, who crossed the finish line in 19:51, it was a good race for the homestanding E-Town runners, including Richard Sievers, who won the 60-64 AG with a 22:28, as well as Tyler Caudill (22:33), Jordan Degroft (23:28) and Brooke Eberhard (25:02), all of whom claimed AG hardware.
Youngster Elijah Swift took third in the 1-14 AG with a 22:57, while fellow Palmyra runners Joel Valvo (23:43) and John Gilbert (23:49) finished just behind. Hummelstown's Amy Falk and Jodi Olympia both flexed their respective running muscle, with Falk winning the Masters Division in 22:59 and Olympia taking the 50-54 AG in 23:02.
Some locals opted to run in much warmer places last weekend, like Florida and California. The Key West Half Marathon, a race with nearly 2,000 runners, featured a big finish from Elizabethtown's Mardiny Ung, who crossed in 1:47:45 to claim second in the 55-59 AG. The Rose Bowl Half Marathon in Pasadena included strong finishes from Hummelstown's Gavin Nortier (1:37:37) and Tanja Nortier (2:27:20).
One week prior at Disney World Marathon Weekend in Orlando, Fla., a quartet of Sun Country runners survived the "Dopey Challenge," which entails four races — a 5K, 10K, half marathon, and marathon — in four days. Elizabethtown's Michael De Stefano and Kristin De Stefano, as well as Hummelstown's Ashleigh Zimmerman and Palmyra's Katelyn Gingrich, all pulled off the four-race sweep. Michael De Stefano sported the best combined time, finishing the 5K in 27:41, 10K in 56:51, half marathon in 1:56:01 and marathon in 6:20:43. The top area runner at the Disney World Marathon was Middletown's Trista Kreider, who finished in 4:47:14.
Closer to home, in New Cumberland, Hummelstown's Francesca Licata landed a fourth-place finish in 26:41 at the Medal Madness 5K. The Polar Bear 5K Trail Run in Lancaster provided a tough course, but it was nothing that Hummelstown's Lindsay Smyth couldn't handle. Smyth completed the race in 25:28 to take second in the 20-29 AG, while Elizabethtown's Richard Beck finished in 27:35 to claim third in the 30-39 AG.
We conclude with more news from the trails: Hershey's W. Andrew Waters finished the Night Owl Trail Marathon in Waynesvilles, Ohio with a time of 8:12:04, while Hummelstown's Nicholas Douty and Samantha Douty ran the PHUNT Trail Race 25K in Elkton, Md., and crossed the finish line together with a time of 3:45:32.
And now, a look ahead:
Springettsbury 10K: Saturday, 9 a.m., in Springettsbury. It's four races down, with four to go in the York County Road Runners Winter Series. Learn more at yorkroadrunners.com.
Medal Madness 5K/10K: Saturday, Jan. 28, 8:30 a.m., in Lancaster. Check out the race paths at Lancaster Junction Trail in this event. Register on runsignup.com.
Run Your Ice Off 5K: Sunday, Jan. 29, 1 p.m., in Chambersburg. IceFest comes to a conclusion with this race, which benefits IceFest, the Leadership Franklin County Alumni Scholarship, and Relay for Life. Find the race on timberhilltiming.com.
Also: Greenwood Furnace Snowfest 5-Miler (Saturday, in Huntingdon); Chilly Cheeks 11K (Sunday, in Reading); Groundhog Jog 4 Miler (Saturday, Jan. 28, in Punxsutawney).