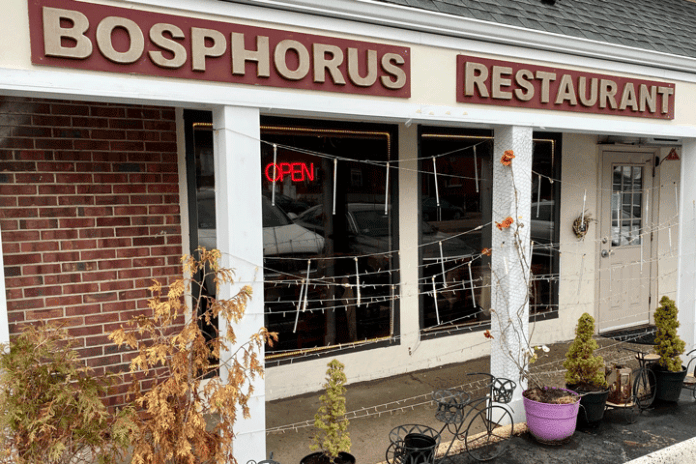 Bosphorus Turkish Restaurant: "Your Bridge to Turkey" – Parsippany Focus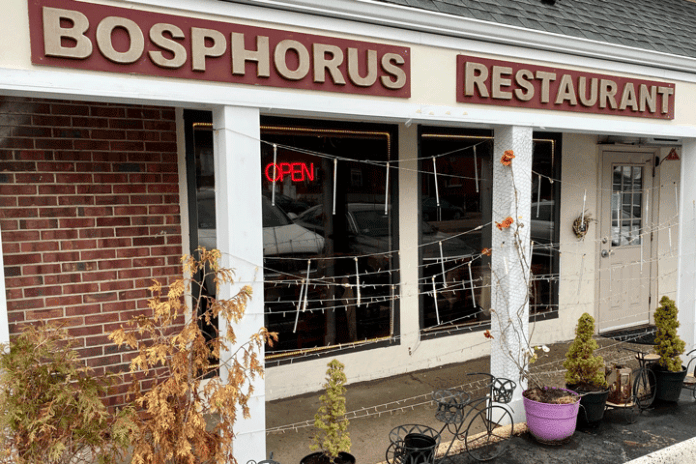 PARSIPPANY — The proprietors of a popular eatery in downtown Lake Hiawatha state on their website, "Bosphorus Restaurant has been open since 1995. Everything we offer is made from scratch in our kitchen, and it's made fresh every day. We hope that the warm, intimate atmosphere and our delicious homemade food will make your experience delightful." That's saying a lot; don't say it if you can't live up to it. I'm glad to report that based on my visit to this long-standing, family-owned and operated Turkish / Mediterranean / Middle Eastern restaurant, they can clearly back up this claim and even exceed it in many ways.
This month's review led me to Bosphorus and my usual crew of enthusiastic foodie friends. I had always heard positive comments regarding Bosphorus, and I cannot explain why it took me so long to get here, especially since I live within walking distance. But like they say, better late than never.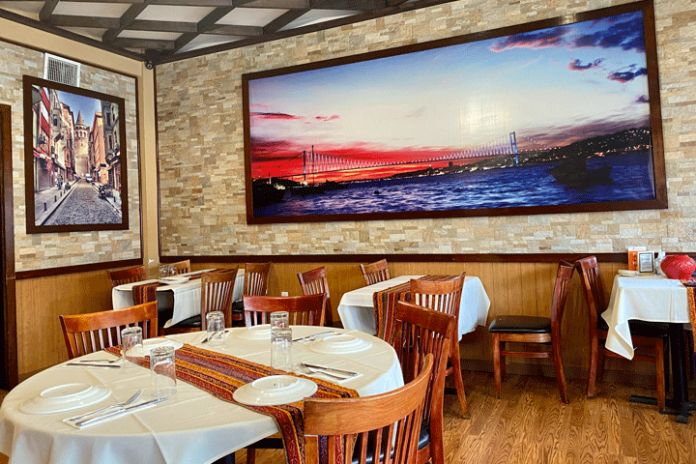 Located on North Beverwyck Road (across from the 7-Eleven), you will find this relatively small restaurant on the end of a small group of businesses. The exterior is simple but attractive and welcoming. Step inside, and you are immediately met with a spotlessly clean, warm, cozy, and comfortable atmosphere. The cute little eatery has a welcoming ambiance, with about ten tables and a capacity of 35 people.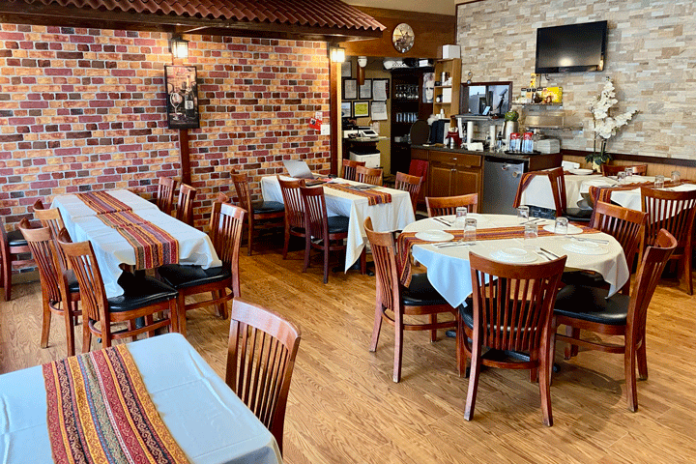 The ten tables are carefully situated around the room, offering comfortable spacing for diners. Tables covered with white linen tablecloths, floral Turkish table runners, sparkling glasses, small dishes, and a soft color scheme of wood and faux brick enhance the experience and set a calming mood. Wall decorations, hangings, and accents are simple, except for the large, framed picture of Turkey's significant Bosphorus Bridge, which is the focal point of one wall. The picture of the suspension bridge is certainly appropriate since the restaurant takes its name in recognition of that bridge. It is one of three suspension bridges in Istanbul, which spans the Bosphorus strait and connects Europe and Asia. Since Faruk and Serap Sahin, owners of the establishment, fare from Istanbul, the honored photo on the wall is certainly understandable.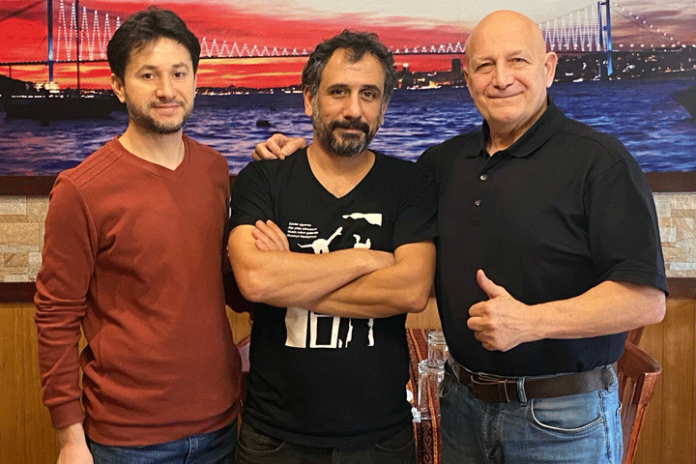 Two large windows on the face of the building provide comfortable natural lighting, as soft music plays in the background as you peruse Bosphorus' tantalizing menu. Our very personable and friendly server, Yahya Pinar, immediately addressed our needs as he prepared our chosen table. Service was quick, attentive, and professional. As the group looked over the lunch and dinner menus, Yahya was happy to answer any questions we may have had. By now, this group was familiar with this cuisine based on our previous visits to many of the general area's excellent choices of Turkish/Mediterranean restaurants.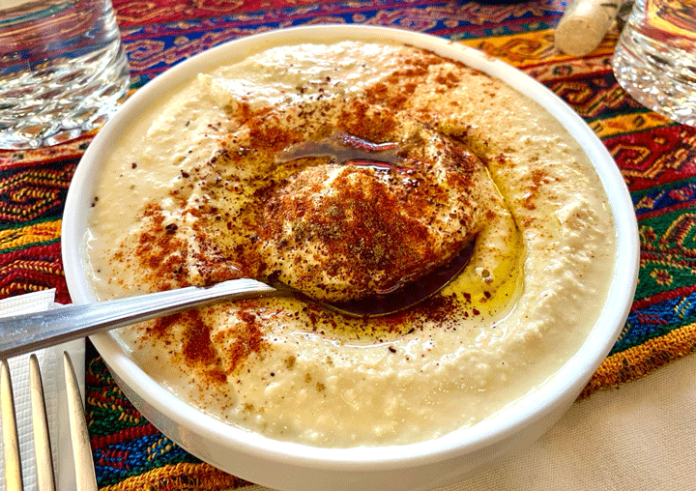 The menu offers a wide selection of soups, salads, appetizers, hot appetizers, entrees, combinations (lamb, chicken, or a combo of both), sautés (which require a 30-minute cooking time and includes choices of chicken, spinach, calamari, and shrimp), and desserts. Many of your traditional Turkish dishes are listed: Manti, Falafel, Kibbeh, Kebab, Adana, Gyro, Shrimp, Salmon, Bronzini (whole fish), etc., all available. Everything was appealing, and choosing one dish over another was not easy. It was decided to share a couple of appetizers before moving on to the entrees. The hummus was our starting point, with a side of flatbread, Fried Eggplant, and Shepard Salad.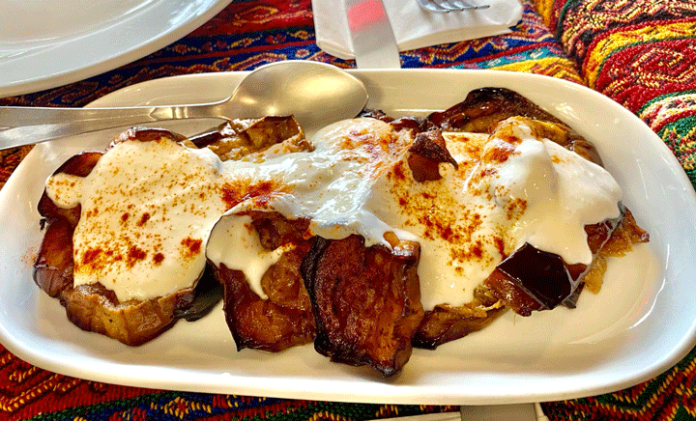 The Hummus (Mashed Chickpeas seasoned with fresh garlic, lemon, tahini, and herbs) was melt-in-your-mouth delectable. A Creamy, light, rich garlicky dip oozing with rich umami flavors, which went perfectly with the pillowy soft Turkish Flatbread. No wonder it's a Turkish staple. The Fried Eggplant (Sliced eggplant, pan-fried in olive oil, and served with yogurt sauce), a classic Turkish appetizer, had a soft, mild, creamy texture and a fantastic earthy flavor. Our other shared appetizer was their highly praised Shepherd Salad (a mosaic of freshly chopped tomatoes, onions, green peppers, and cucumbers with red wine vinegar and olive oil and topped with feta cheese).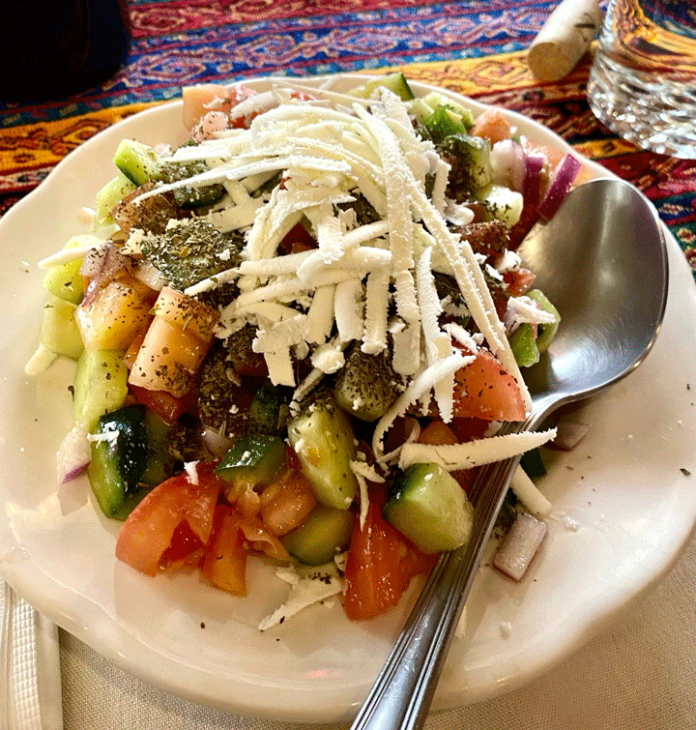 The story goes shepherds would go to their farms, taking some of their daily crops, including cucumbers, tomatoes, and other delicious ingredients, and mixing them together into a salad. From then on, this common dish was named after the shepherds who made them. The salad was light and healthy, and you could clearly tell that the vegetables were as crisp and fresh as the day they were picked. The flavors of the seasonings, lemon juice, and olive oil enhanced this very tasty and refreshing appetizer.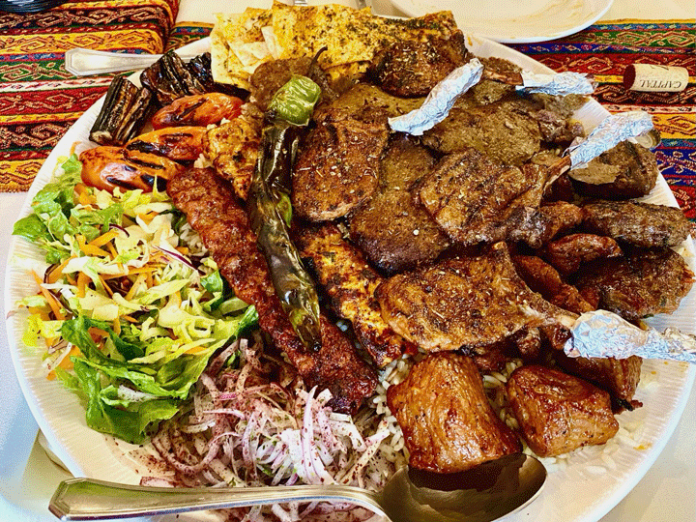 For an entrée, we decided to share a large Bosphorus Mixed Grill (Combination of Shish, Adana, Chicken Adana, Meatballs, Gyro, Cop Shish, and Lamb Chops). The Bosphorus Mixed Grill is a generously sized platter of food listed on the menu as a serving of three. We made a special request that it be modified to meet the needs of the five of us, and they were more than happy to accommodate our request. Our impressive and visually stunning platter of assorted delicacies arrived quickly, with abundant savory choices. The aroma of the dish itself was a treat. I should note that everything we had was beautifully plated, perfectly seasoned, and expertly prepared. Turkish cuisine is noted as always being hearty, flavorful, and unpretentious, and that was evident in this wonderful meal.
The Mixed Grill included grilled lamb chops that were sweet, juicy, and delicious; fragrant and tender shish kebab; earthy and savory Adana kebab, a spicy, long lamb mince kebab, roasted and beautifully spiced gyros; wooden skewered cop shish, a lamb shish kebab, all marinated to perfection, making every bite flavorful through and through, and perfect to go with the accompanying hot and tzatziki sauces. And all these juicy, tender, and enticing portions of assorted meats came nestled upon a bed of fluffy white rice and vegetables. A highly satisfying dish, and we all agreed, a great selection.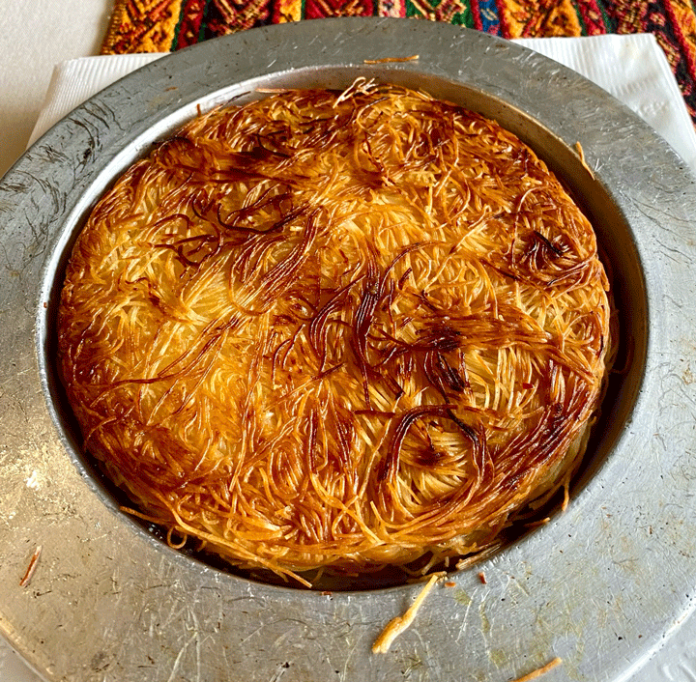 We finished our meal with a Turkish coffee. Kunefe is a classic Turkish dessert. A warm, sweet, crisp, decadent cheese-filled pastry made from shredded dough and topped with powdered pistachios. I've never had it before, but I would not hesitate to order it again. The coffee's strong, bold, bittersweet taste paired well with the Kunefe and was similar to finalizing a meal with an espresso.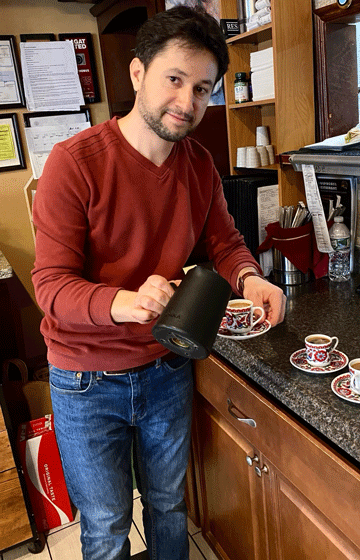 After dinner, I had an opportunity to sit down with Chef/Owner Faruk Sahin. The very personable Mr. Sahin told me that "his greatest satisfaction in owning Bosphorus is seeing his customers enjoy their food and leave his restaurant happy.
When customers leave happy, it makes me happy"! Mr. Sahin immigrated to the United States (New Jersey) from Istanbul, Turkey, in 2018, and he and his wife Serap acquired Bosphorus in 2019. He said he learned everything about the business from his predecessor, Muzaffar Elmas, whose tutelage and mentorship have maintained the same high-quality standards for the restaurant's food and service. In fact, Bosphorus has had the same Head Chef, Mehmet Kaja, for the past 12 years.
All the dishes at Bosphorus are homemade and fresh. Their produce is sourced from local farmers' markets every two days. Their meat is sourced regularly from a couple of different distributors, ensuring quality and freshness. As previously stated, Turkish cuisine, distinctive for its variations in tastes, is known to be inherently healthy, highly seasonal, highly nutritious, and fresh-tasting food. Bosphorus definitely hits home on all those qualities. Bosphorus provides a great dining experience, delicious food, a casual yet classy ambiance, friendly service, reasonable prices, and fresh, healthy food made with care. If you have not stopped in yet, or want to try Turkish cuisine for the first time, I recommend stopping in and giving them a try.
Aflyet Olsun! (Enjoy your Meal); Dine In – Takeout –  Curbside pickup  –  No Contact Delivery; Halal – Vegetarian Options – Catering – Special Events.  BYO – Takes Reservations-Limited Off-Road Parking.
Hours: Tuesday to Friday: 10:30 a.m. to 9:30 p.m., Saturday and Sunday 11:30 a.m. to 9:30 p.m. Closed Mondays.
Bosphorus Restaurant (Turkish Restaurant) is located at 32 North Beverwyck Road, Lake Hiawatha. (973) 335-9690. https://bosphorus-nj.com.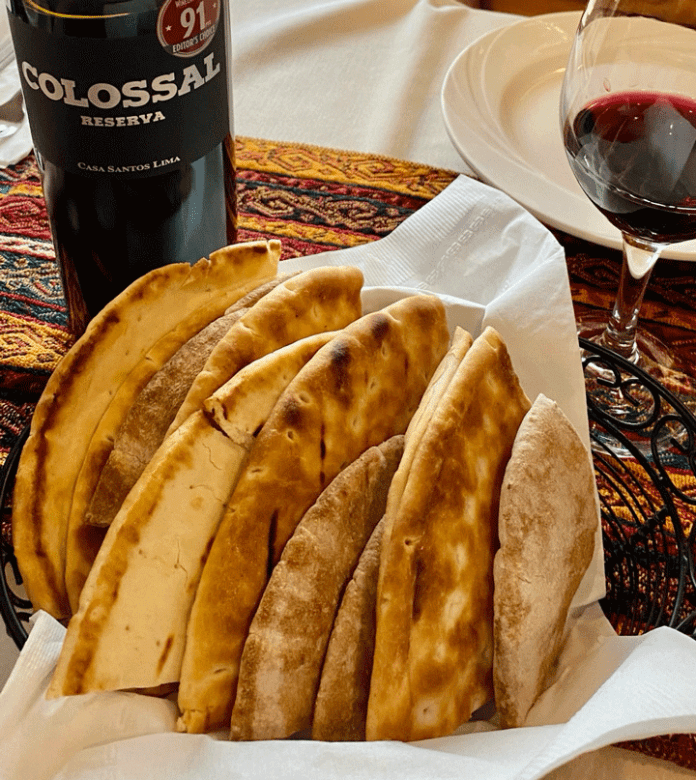 Reprinted from Parsippany Focus Magazine, February 2023. Click here to view the magazine.
Related