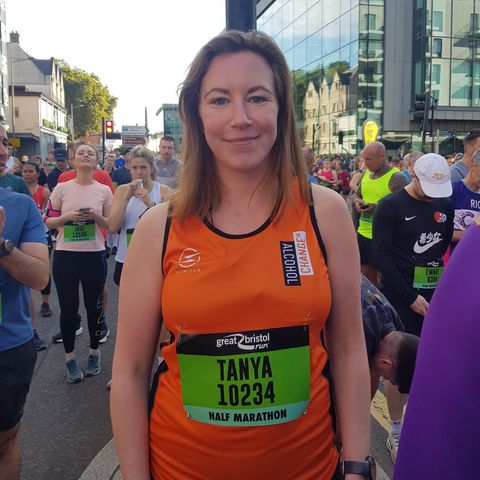 Alcohol and mental health: Five runners share their stories – Runner's World
Many of us runners enjoy a drink or two. Running and all that goes with it offers plenty of reasons/excuses (delete according to taste) to involve alcohol, whatever the occasion. New PB? Surely that deserves a celebratory beer – or two. Terrible race? A debrief over a glass of red. Tough midweek hill session? See you in the bar later.
Some running groups make a virtue of tying the finishing line in with a tipple by using the pub as their unofficial clubhouse. Lancashire's Darwen Dashers' adopted HQ is the Sunnyhurst Pub, while the Sydenham Greyhounds in London run a loop starting and ending at their local boozer.
Sometimes, you don't have to wait until the running stops for the drink to flow. Anyone who has completed – probably unsteadily – the Marathon du Médoc through French vineyards (complete with 23 wine-tasting stops) or taken part in a messy beer-mile challenge will appreciate how alcohol and aerobic exercise can sometimes make entertaining companions.
But while, for many, the occasional drink may enhance our running lives, there can be a darker side to our relationship with alcohol. If we drink too much, too often, it will impact both physical and mental health. According to the UK's chief medical officer, no one should drink more than 14 units (six pints of average-strength beer or 10 small glasses of low-strength wine) per week, ideally spread over three or more days. There's no safe alcohol limit, but experts say any health risks are low if we stick to this.
'There's no real evidence that even small amounts of alcohol will benefit your health,' says Sir Ian Gilmore, professor of hepatology and director of the Liverpool Centre forAlcohol Research. 'But even if you drink in the upper safety levels of 14 units a week, this equates to about a one in 100 chance of dying of alcohol-related disease, so your chances of that are very low.'
Interestingly, once exercise is added to the mix, some research has found there can potentially be a health benefit. A 2020 University of Munich study found that moderate drinkers who exercised regularly performed better in fitness tests than teetotallers.
Meanwhile, a 2022 study by The Cooper Institute in the US found that men and women with greater but not excessive drinking habits had higher fitness levels. Its authors believe this could be down to the 'licensing effect', a term used to describe how we allow ourselves to indulge – here with drink – after doing something virtuous, such as running.
Of course, sometimes moderate drinking becomes heavy, and the stats in this area are somewhat sobering. Public Health England's figures show that 24% of adults regularly exceed government guidelines. The charity Alcohol Change UK estimates that there are more than 602,000 dependent drinkers in England alone, yet only 18% who require treatment for their addiction receive it. Equally disturbing is government data stating that more than 60 medical conditions – ranging from mouth cancer to high blood pressure – are in part caused by alcohol. Add to this Office for National Statistics figures showing that the alcoholic-specific death rate for the UK in 2020 was 14 per 100,000 (an 18.6% increase on 2019) – the highest since records began– and a depressing picture emerges.
For those struggling with alcohol, running could provide a way through. Some encouraging Swedish research from 2022, involving 140 usually inactive people with alcohol-use disorders, found that those who followed a 12-week exercise programme of either yoga or aerobic exercise reduced their alcohol consumption more than those who underwent only phone counselling.
The five runners featured here know first-hand how important running can be in escaping an unhealthy relationship with alcohol. They talk candidly about their battles with booze and how running rather than drinking now gives them a buzz.
---
'My life is so much richer without drink'
Tanya, 31, from Southampton, Hampshire
'I'd tried running on and off for a few years but never really thought it was for me. But I liked being outside and doing my own thing, so I kept returning to it. Another part of my life had always revolved around drink, and I began living a party lifestyle.
I used to work in hospitality and alcohol was always around – I never batted an eyelid about how much I drank.
During the first Covid wave, my drinking escalated as no one could see how hungover I was working away behind a screen. It got to the point where I was drinking a couple of bottles of wine in an evening, putting on lots of weight, and my mental health suffered, too. Alongside this, I was in a bad relationship, which ended during this period. One night in March 2021, I really lost the plot at a friend's house, which led to me hiding away socially for a while. I decided then to totally cut out alcohol for three months.
I knew I couldn't do this with willpower alone, so I took a more scientific approach. I downloaded the Try Dry app where you log everything you drink. I also read lots about alcohol to better understand my relationship with it. As I had family members affected and one had even died as a result of alcohol, I'd seen its dangers close up.
Some friends doubted if I'd stick to it, knowing how much I liked a drink, but this only spurred me on to prove them wrong. I focused more on my running and ran the Southampton 10K and the Great South Run. After those three months without alcohol, I carried it on for six months and then completed a full year.
I didn't feel I was missing out. I still went to pubs and, when I went to friends' houses, I'd go armed with alcohol-free beers as I felt a bit vulnerable if I didn't have drinks like that with me.
After that year of no alcohol, I started drinking again and soon fell into my old habits. But I wanted to do well with my running, so knew something had to give and decided to stop drinking again, at least until after the Great South Run again last October. I'd done it once, so I felt I could do another long sober stretch.
My life is so much richer without drink. My new boyfriend – who I met during my sober period – and I do more together, including races as he's also a keen runner. I've signed up to the Edinburgh Marathon in May – again, something I wouldn't have done while drinking loads. I realised how much I missed running when I suffered a calf injury last year and had to rest up.
I now say I used to be drunk in the pub talking absolute nonsense, now I sit there boring people about my running!'
Tanya runs in support of Alcohol Change UK (alcoholchange.org.uk), a charity that works towards a society that's free from the harm caused by alcohol.
'I have new direction in my life'
Katie Vangucci, 40, from north London
'It's easy to make your drinking habits seem normal. I'd have two or three glasses of wine on weekday evenings and more if we were out at the weekend. It crept up on me, especially after having two children when we were at home more.
I'm an NHS physio, which can be very stressful, and after a long day it was easy to have a drink to relax. My drinking didn't ever prevent me functioning, but it did stop me doing the things I do now.
In 2019, some colleagues and I decided to go sober for October. I wondered if I'd havet he willpower. It was tough and sometimes I craved a drink, but I was determined.
After that month, I felt better – not so tired or rubbish in the morning – and I had more energy. It made me reassess the impact drink had on me, and I continued not drinking. At first, I told people I was taking a break, but after a year I said I don't drink any more. It was interesting seeing people's reactions – it was like holding up a mirror and they'd tell me about their own drinking habits.
During the first Covid wave, I was on the front-line hospital wards, so it would have been easy to have some wine after a shift. I was proud that I kept my sobriety.
A year after I stopped drinking, I found running. My body had all this energy and was now ready to exercise, which I'd neglected for years. I did Couch to 5K, which was a slog but built my endurance. Soon afterwards, I began looking forward to my runs.
I now run three or four times a week and know I wouldn't be getting up early to run if I was still drinking – I'd probably be feeling rough in bed. I love solo runs, gradually increasing my distance.
I've lost 31⁄2 st and gone from a size 14 to a 10. My mindset has changed, too, from someone who never exercised to someone who can't imagine life without running. I feel much more positive and have a new direction in my life. I'm proud of what I've achieved.
People ask me if I'm ever tempted. But I look at all the downsides of drinking and can easily remind myself why I replaced it with running. I enjoy my life too much to go back to those old habits.'
'After stopping, I ran more miles and my times got quicker'
Ray Clayton, 47, Welton, Lincolnshire
'I started drinking when I was about 16 and most of the 1990s were a drunken blur. I'd drink heavily all weekend and play Sunday morning football, turning up for matches still inebriated. Drinking was a big part of my life.
In 2012, after my mum died, I decided to get fit because I couldn't even rundown the street without blowing hard. I signed up for the Lincoln 10K and began training. I enjoyed the race and afterwards was hooked.
I was still drinking a lot. I saw having alcohol as a reward for all my running and told myself I was burning it off by exercising so much. After a race, I'd drink to celebrate and, even after a training session, I'd buy cans of strong beer because I'd put in such an effort. But one drink was never enough. I'd buy eight tins of beer, hide four from my wife, drink four and then have the others later. If I bought bottles of ale, I would drink them, refill them with water, put the lid back on and pretend I hadn't drunk that much.
Although I was drinking every night, I tried cutting back before races. I still might have the odd one before race day, do fine and think I'd got away with it, so it would creep up and I'd have two before the next race. I was having the recommended weekly limit in a single evening or two. It meant my body wasn't recovering, so I suffered niggles, felt sluggish and generally rough when racing.
But, in March 2019, I had a wake-up call after seeing what a mess I looked in the mirror. My dad, brother and mum's partner had all died of alcohol-related illnesses, and I wanted to be here for my wife and kids. I drank the last four cans of beer in the house and have stopped ever since. I posted on Twitter that I was an alcoholic who needed help. The response was amazing, with lots of people supporting me and others asking me to help them.
Those first weeks were tough. I suffered shakes and terrible night sweats as my body craved alcohol, but I stuck to it. I realised how far I'd come when I went to the supermarket– the one I'd nip into after a training run – to buy my wife some wine and wasn't at all tempted to go down the beer aisle.
After stopping, I focused more on my running and seeing what I could achieve. I ran more miles and my times got quicker– I was so proud when I came second in the Longhorn Marathon. I'd been spending about £30 a week on drink, which I now use to buy better kit and enter more races.
I can't think of a single negative of giving up drinking. It's all been positive, especially regarding my running. I would never go back to alcohol. It's no longer part of my life.'
---
'We see people transform thanks to running'
Dean Smith (right), 52, Leeds
'I was badly bullied at school and, as things weren't good at home, I started drinking when I was very young. I had low self-esteem so alcohol made me feel unafraid and was like an anaesthetic. In my twenties and thirties, I became dependent on alcohol and would have my first drink at 5am. I'd stay topped up all day, even drinking at work. Eventually, I got pulled over for drink driving.
By October 2006, I was at my lowest point. I was homeless – I was sleeping at friends' places – I weighed less than 71⁄2st and had tried to kill myself three times. After coming out of hospital following my last attempt, I realised I couldn't carry on like this. In the November, I went to my first 12-step programme for alcoholics and haven't had a drink since.
Within a year, I'd started putting my life back together. This led to me wanting to get fit, so I joined a boot-camp group, where I discovered I enjoyed running. I did my first race, the Abbey Dash, in 2017 and have since completed several marathons. I joined South Leeds Lakers running club, where I became chairman for a time and led a beginners' 5K programme for men with addiction issues. I'd also been inspired by Skid Row Marathon, the documentary about a Los Angeles judge who set up a running club for his city's homeless. I wanted to do something similar by helping people maintain their recovery from alcohol abuse or taking drugs. I decided to join forces with Jamie, my friend who was leading a running group at a rehab day centre, and together we set up Recovery Runners.
After launching it on social media, the response was amazing. As well as people with alcohol issues, others with problems such as eating disorders, mental health issues or who had been suicidal also wanted to run with us. We decided it would be a place open for anyone to simply come along without being judged. Almost 80 people turned up at Leeds Dock that first morning in August 2021. We now meet every Sunday for a run, walk or a chat over a brew.
I don't know where Recovery Runners might go in the future – we'd love to replicate it in other places. There's nothing else quite like how we use running and chatting to help people with addiction issues. Running's given me a sense of achievement that I struggled to find anywhere else before.'
Jamie Haselden (left), 45, Leeds
'I began drinking at about 13 and was soon doing it morning, noon and night. By my thirties I couldn't even have a shower without having a beer first because I was shaking so much. I'd tried giving up alcohol, but after nine months I went back to it as it had such a grip on me.
By 2015, I was literally looking yellow as my body started shutting down. My doctor said if I didn't stop drinking, I'd be dead within six months. At first, it didn't deter me, even though my wife, Sarah, begged me to stop. But after I began throwing up blood, I realised I needed help. On a Wednesday evening in October 2015, I went to my first 12-step programme meeting. I came out with no desire to drink again and haven't had alcohol since. While in recovery, I first met Dean.
A year or so later, I discovered running. I loved running faster, doing races and letting those endorphins kick in. I run all the time, whatever the weather, as it's so good for my mental health. I use my experiences to help at Recovery Runners, which has grown rapidly. We now have sponsors, receive donations and fundraise for kit, race entries and training more run leaders. We also help local charities – last year (2022), we won a community champion award.
All our runners have different goals – getting fitter, running a 5K or 10K or completing something longer. Some want to focus on exercise while others want to talk with people who have gone through similar experiences. I've never met anyone who has come back from a run feeling worse than before they started. We see people transform thanks to running.'