Four inducted into Virginia Peninsula Road Racing Hall of Fame – Daily Press
The Virginia Peninsula Road Racing Hall of Fame was founded in 2006, jointly by the Colonial Road Runners and the Peninsula Track Club. The list of Hall of Famers is now up to 48 after selections this week by the Hall of Fame committee of Jim and Geri Elder of Williamsburg, Sika Henry of Newport News and Steve Kast of Yorktown.
The 2022 class will be inducted at the PTC awards banquet on Jan. 21 and the CRR awards banquet on Jan. 28. This is the 16th inductee class into the Hall of Fame.
Advertisement
The previous 15 Hall of Fame classes were Joan Coven, the late Michael Mann, and John Piggott in 2006; Rick Platt, Valerie Plyler and the late Tom Ray in 2007; Lew Faxon, Rob Hinkle and the late Andrew Polansky in 2008; Barbara Biasi, Ed Richards and Robert S. White in 2009; Stephen Chantry, Jim Goggin and John Hort in 2010; the late Joe Harney, Larry Turner and Lori Eady Melle in 2011; Bruce Davis, Rhonda Venable and Jennifer Quarles in 2012; Mercedes Castillo-D'Amico, Ed Moran and Dick Pierce in 2013; George Fenigsohn, Chris Papile and Langston Shelton in 2014; Randy Hawthorne and Mark Tompkins in 2015; Dale Abrahamson, Ben Dyer and Rick Samaha in 2016; Greg Dawson, Pamela Lovett and George Nelsen in 2017; the late Pauline Ely, the late Vernon Geary and John Romaine in 2018; Susan Hagel, Adam Otstot and Jim Thornton in 2019, and Karla Havens, Loraine Masuoka and Rob Whitaker in 2021.
Due to COVID canceling the PTC and CRR banquets that year, there was no 2020 inductee class.
Advertisement
Here are this year's inductees: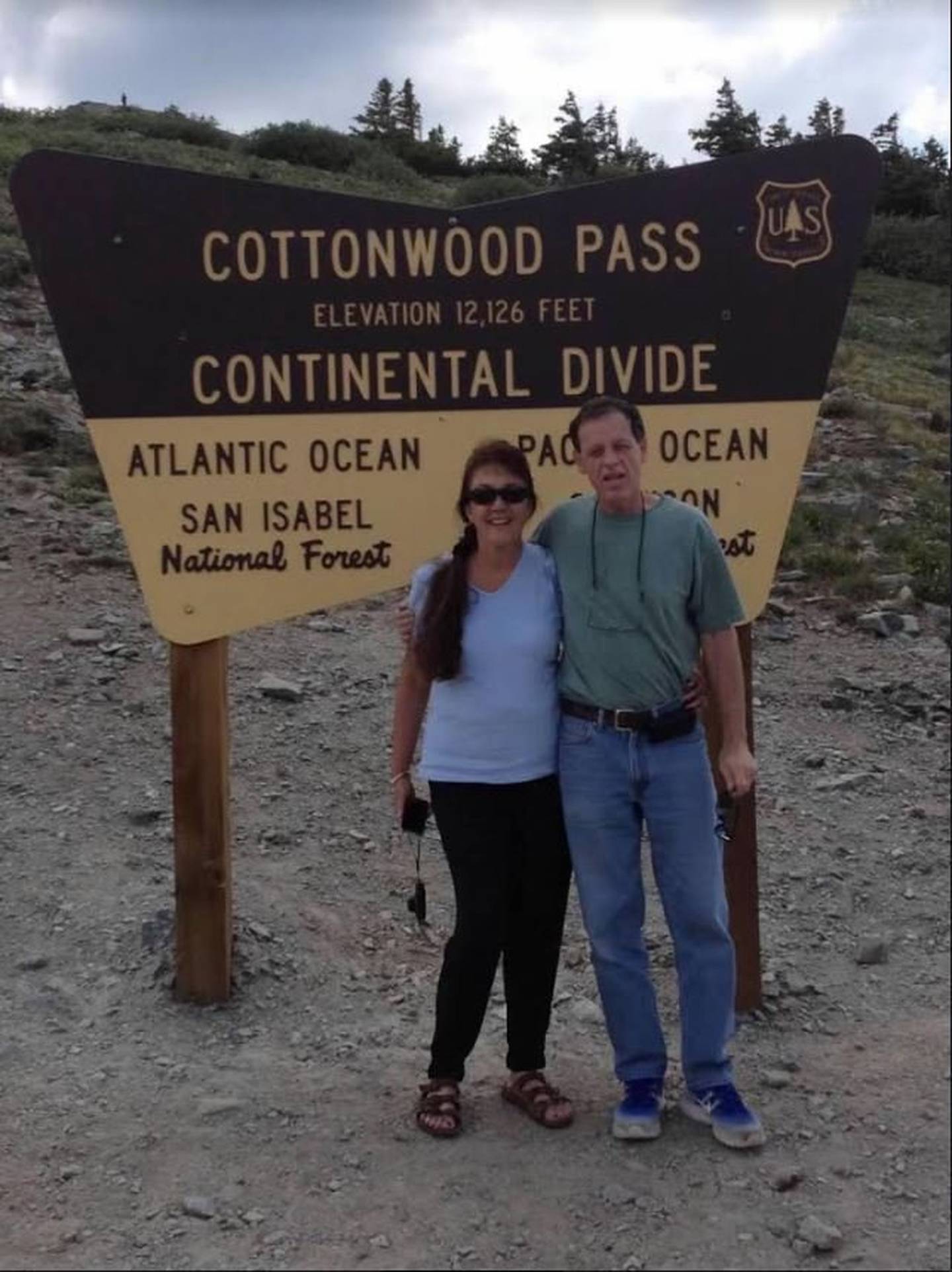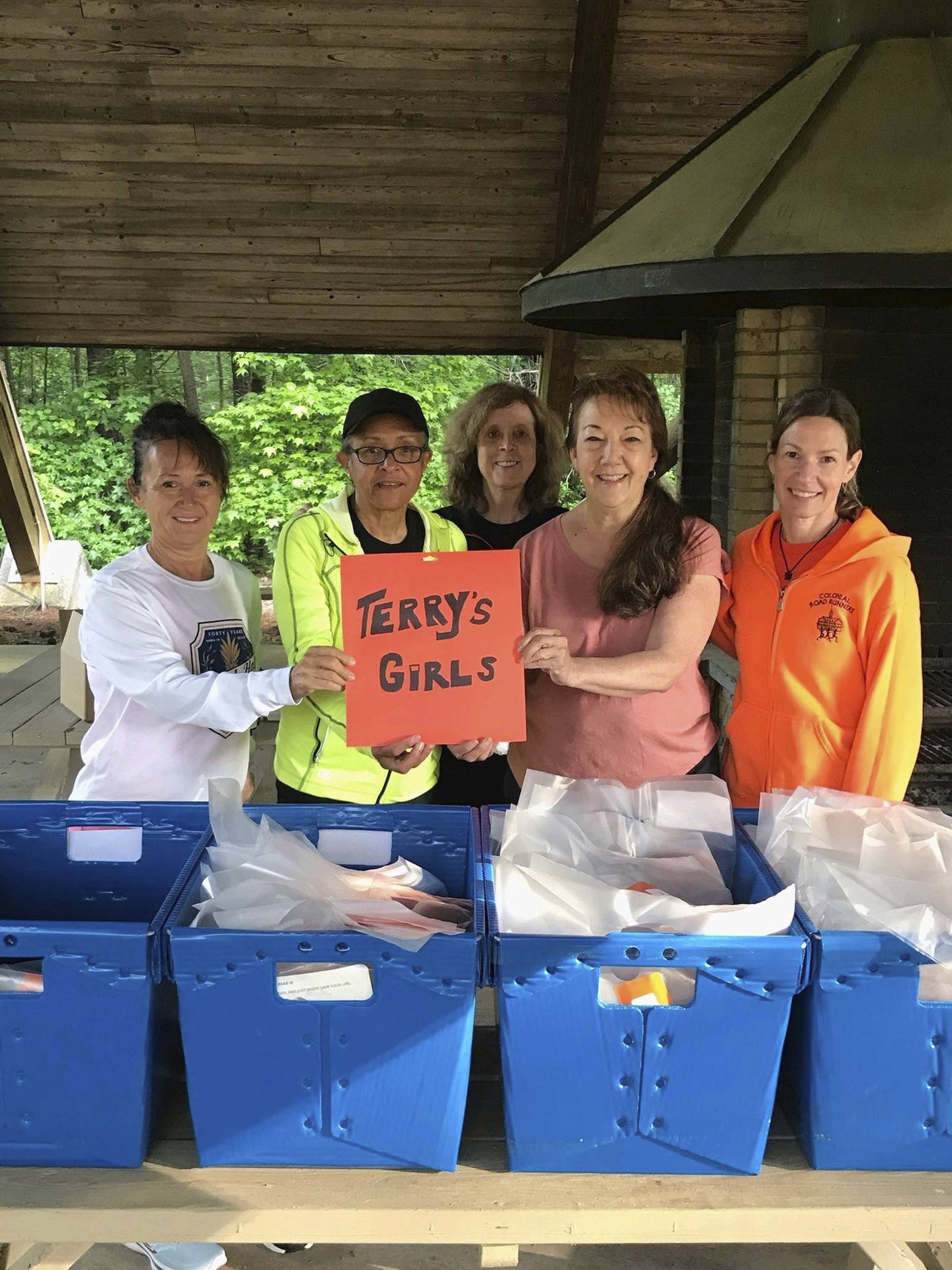 Jim and Geri Elder – Colonial Sports and their three divisions (a retail store on Jamestown Road, a screen-printing shop on Second Street and their chip-timing race-management company) is a key part of the success of road racing in the Williamsburg area. Jim manages the retail store, Geri the screen-printing, and the whole family has been involved through the years (sons Scott and Ryan, and daughter Ashley).
After graduating from Penn State, Scott founded Colonial Sports in 1994 as a running specialty store on Prince George Street, then passed it on to Jim after his retirement from the Army (after 22 years, retiring as a Lt. Col.). Jim, originally from El Paso, Texas, was stationed in Germany, and came to Virginia while serving at Fort Monroe. He was given a second chance at life after being diagnosed with stomach cancer in 1994, and given just "two months to live" by the doctors, who fortunately were totally wrong. After treatment, he's still going strong at age 72, almost 30 years later. The Colonial Sports store logo is "Healthy Heart, Healthy Mind." As part of his change of life, Jim trained for and completed the Marine Corps Marathon.
His wife Geri, from Oahu, Hawaii, also has completed five marathons, including Honolulu, Rock 'n' Roll, Richmond and Marine Corps. She trained many runners for the Leukemia Society Team in Training marathon teams.
Colonial Sports race manages the largest races in Williamsburg, including the Colonial Half Marathon in February, the Run the DOG Street Challenge 5K in April, and the Sleighbell 5K in December, as well as smaller events such as the Best Brew with a View 5K at Billsburg in May, and the After Eight 8K Thanksgiving weekend, also at Billsburg. Jim was the first person to convince Colonial Williamsburg to allow races down Duke of Gloucester Street, which has been a boon for Williamsburg tourism since 2010.
Past CRR vice president Greg Dawson (himself a Hall of Famer) emailed, "Colonial Sports is their family business, but supporting the local running community goes beyond professional vocation to be a true calling. Jim is passionate about equipping and advising local runners, to provide them the tools they need to excel. He has a genuine sense of responsibility to the community. They are remarkably generous, financially and with their time. Jim's association with school running programs, such as SHIP (School Health Initiative Program) has led to hundreds of school children participating in local road races, and has set a generation on a course of active and healthy lives. It's hard to capture the full extent of Jim and Geri's support to the running community. Their passion and generosity are unmatched. They elevate the Virginia Peninsula Road Racing Hall of Fame by their inclusion."
In their spare time, Jim and Geri enjoy fly fishing and bee keeping.
Sika Henry – Henry, a Project Manager and Corporate Analyst for Ferguson Enterprises, has a huge list of accomplishments. Her candidacy was strengthened in 2022 by becoming the first Black female professional triathlete, where she competed all year on the professional triathlon circuit at the half Ironman distance. She also was inducted into the National Black Distance Running Hall of Fame. And she concluded her year by smashing the Virginia state record for the 100K distance (62.1 miles) at the Tidewater Striders Dismal Swamp ultramarathon races the first weekend of December, and with the 10th fastest American female 100K time for the year.
Advertisement
Triathlon Magazine had her as the Breakthrough Performance of the Year for 2021 and The New York Times featured her in What Made Black History in 2021. She was the Athlete of the Year by Outspoken Women in Triathlon in 2020. She was a finisher of the Ironman World Championship Triathlon in Kona, Hawaii in 2019. And locally, she was a two-time women's winner of the Newport News One City Marathon, in 2015 and '16.
Her athletic running career started as a high jumper and sprinter for Tufts University (Medford, Mass.) where she was an NCAA Division III All-American in track, while earning her degree in Economics (class of 2005). Before that she was a four-year varsity swimmer for Mount Saint Dominic Academy High School (Caldwell, N.J.), class of 2001.
After recovering from a traumatic bike accident while competing in a triathlon (she was the featured speaker at the 2020 CRR Elections Meeting and told that story), she made history when she became the first African American woman to qualify for her pro card in triathlons in 2021. She has also been featured on ESPN, in Women's Running Magazine and in Runner's World. She is a professional speaker, and has written articles for Bicycling Magazine and Triathlon Magazine.
In running, her best times are 8:34:23 in the 100K (the state record), 2:57:13 at the 2020 Tidewater Striders Marathon, 1:26:57 at the 2015 Virginia Running Festival Half Marathon (where she is a 4-time champion), a course record 39:34 at the 2014 Fort Eustis 10K, a course record 30:46 at the Toano Icy 8K, and a course record 18:19 at the 2017 Menchville Winter Chill 5K (where she is a 5-time winner). In CRR races, besides Toano, she has won the Governor's Land 5K three times, and the Queens Lake 5K twice.
In 2023, Sika will focus on the ultramarathon distance, as well as becoming a Masters competitor (ages 40-and-over).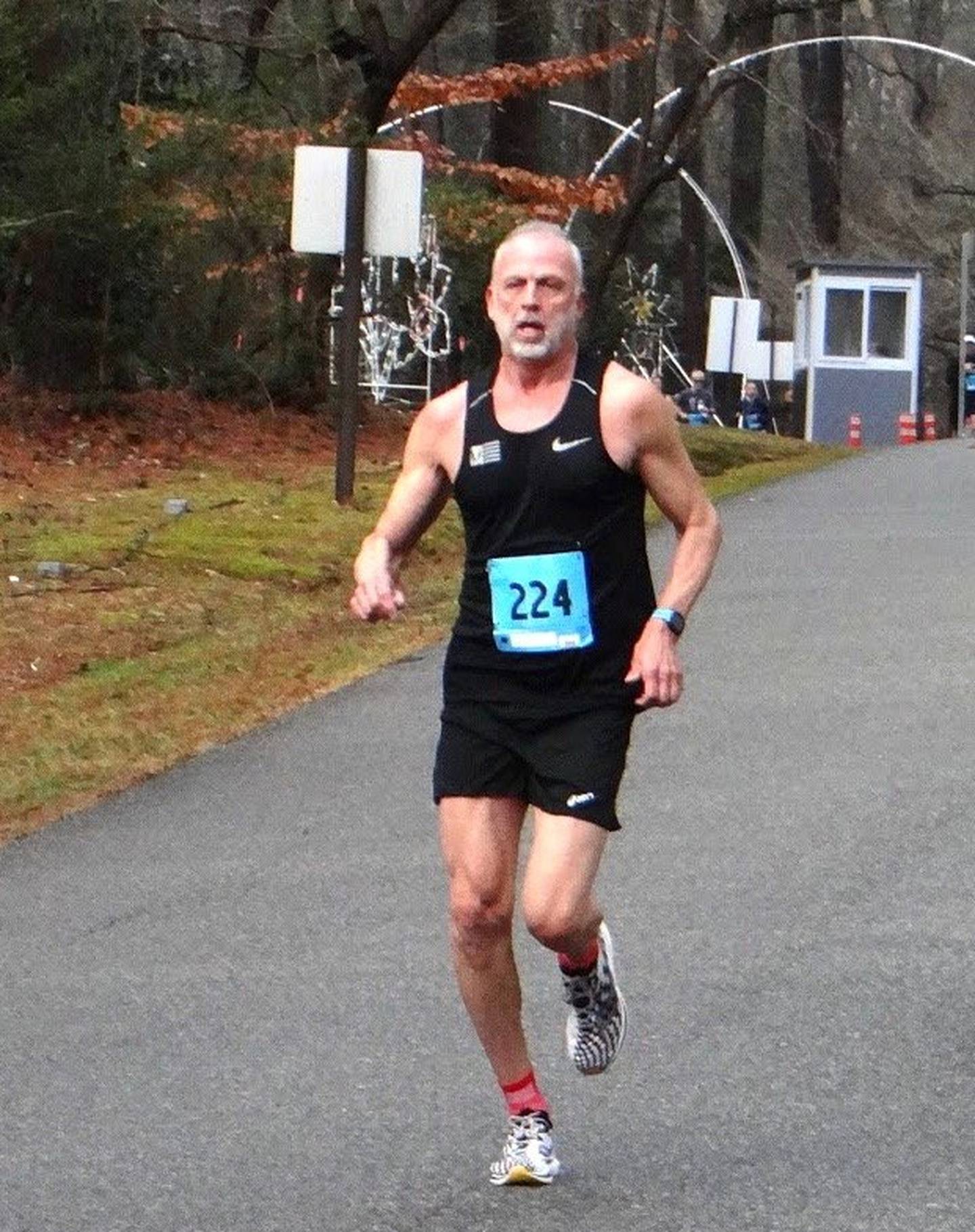 Steve Kast – Kast, 58, has excelled in running for more than 40 years, starting at Giles County High in southwest Virginia, where he was all-state in cross country in 1981, all-state in track (the mile) in 1982 and '83, and all-region in basketball in 1983. He was the #1 runner in cross country all four years at Giles. His school records in the 800 meters, 1,600 meters and 3,200 meters still stand. Those times got him to Christopher Newport College (now CNU), where he had numerous honors of all-conference, all-region and all-state in cross country and track, and was an NCAA national qualifier. He was the first (and still one of only six) for CNC to break the 25-minute barrier at the 8K cross country distance, and was the captain of the first CNC team to qualify for nationals in 1984. He has the school records outdoors at 1,500 meters and indoors at 1,000 meters.
Advertisement
His lifetime bests include a 14:41 for 5,000 meters at the Virginia Tech Open in 1986, 24:55 for 8K cross country in 1986, 31:10 for the road 10K at the Bay Days 10K, 52:19 at 10 miles, 1:09:23 at the half marathon in 1984, and 3:34:52 at age 13 for the Charlotte Observer Marathon.
He has age-graded above the national-class level of 80% 33 times in the 5K since 2020, and has age-graded twice above the world-class level of 90% in the track 800 meters. On the track, his PRs are 51.4 (400 meters), 1:54.5 (800 meters), 4:13 (1,600 meters), and 9:51.4 (3,200 meters, his freshman year of high school, and never ran that distance again). In the 55-59 age division on the track, he's done 2:15.49 in the 800 meters (age grade 90.95%), and 4:44.16 for 1,500 meters.
Kast has given back to the community in many ways, first as head of the Boys and Girls Club of the Peninsula, and now as president and CEO of the United Way of the Virginia Peninsula. He's coached numerous runners for 35 years, and resumed the PTC Wednesday track interval workout group as coach in 2021. He was the original founder and race director for the Smart Smiles 5K at Mariner's Museum, a PTC Grand Prix race.
In recent years, he has been a stalwart of the CRR Masters track teams to USATF national competitions, state, national and world Senior Games competition, and this past year to the World Masters track championships in Tampere, Finland. In both 2020 and '21, he was the fastest 800-meter runner in the U.S. in the 55-59 age division. He won three events (800, 1,500, 3,000) at the Huntsman World Senior Games. The past three years he has been an All-American in the indoor and outdoor 800 and 1,500 meters.
Rick Platt is president of Colonial Road Runners.